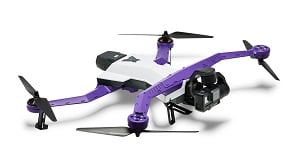 The Airdog ADII drone. Image credit: Airdog
Airdog has introduced a new autonomous drone that uses intelligent tracking technology to follow users while it flies.
The Airdog ADII was built for hands-free operation from the ground up to eliminate the need for manned operation and to capture content as the drone follows along. The camera drone has obstacle avoidance, scenic-capture modes and a pro-grade camera stabilization as well as an auto-record system.
Airdog says the camera allows for professional footage over environments such as high speeds, wind, water and abrupt elevation and terrain changes, meaning it can be used for trail running, surfing, skiing, mountain biking, wake-boarding and motorsports as well as other family activities.
As a companion, the company has a tracking device called the AirLeash that is lightweight and waterproof with simple controls via an LCD interface for flight, start-up tutorials and preset, sport and customized modes.
The Airdog ADII is available now exclusively on Kickstarter.