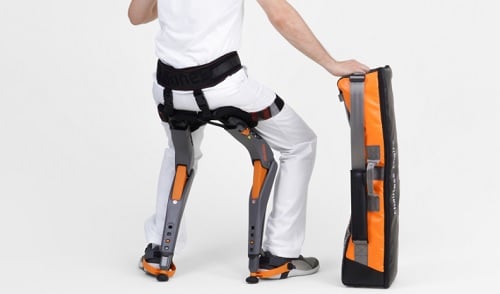 The Chairless Chair provides support while crouching or squatting, as well as a way for workers to sit during a job. (Source: Noonee)
For those that work in jobs that require long hours of standing without any place to sit, German startup Noonee has developed a solution in the form of an exoskeleton that doubles as a chair.
The Chairless Chair is a wearable sitting support device for manufacturing companies where traditional sitting methods are not suitable. The exoskeleton is attached to a user and allows them to walk normally but then provides sitting support without obstructing a work space.
At the same time, the exoskeleton helps support a user when they bend, squat or crouch. Noonee worked with employees from Audi, Seat, Skoda, Daimler, BMW and Renault to make the chair applicable for industrial jobs and production lines where chairs are not allowed.
The Chairless Chair is fully adjustable to conform to different heights, quickly switches between sitting, standing or walking and adapts to different body sizes and safety shoes.
Noonee says it is aiming to produce about 10,000 units per year.
Learn more about the exoskeleton by visiting Noonee's website.