The Honeywell HPM (High Performance Process Manager) Series Particle Sensor is a laser-based sensor that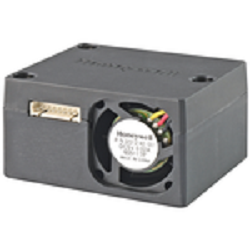 Image credit: Honeywelluses the light scattering method to detect and count particles in the concentration range of 0 μg/m3 to 1,000 μg/m3 in a given environment. A laser light source illuminates a particle as it is pulled through the detection chamber. As particles pass through the laser beam, the light source becomes obscured and is recorded on the photo or light detector. The light is then analyzed and converted to an electrical signal providing particulate size and quantity to calculate concentrations in real time.
The Particle Sensor with UART (Universal Asynchronous Receiver/Transmitter) Output allows the user to more accurately and cost-effectively monitor or control environmental particulate contaminants. A service life of 20,000 hours of continuous use essentially equates to seven years of product life (based on eight hours of operation per day).
The fully calibrated sensor provides proven electromagnetic compatibility (EMC) performance, based on IEC61000, and features a response time of less than six seconds.