Honeywell has announced a new particle sensor that aims to help building owners and consumers monitor the air for harmful particulate contaminants often caused by dust, soot, and smoke.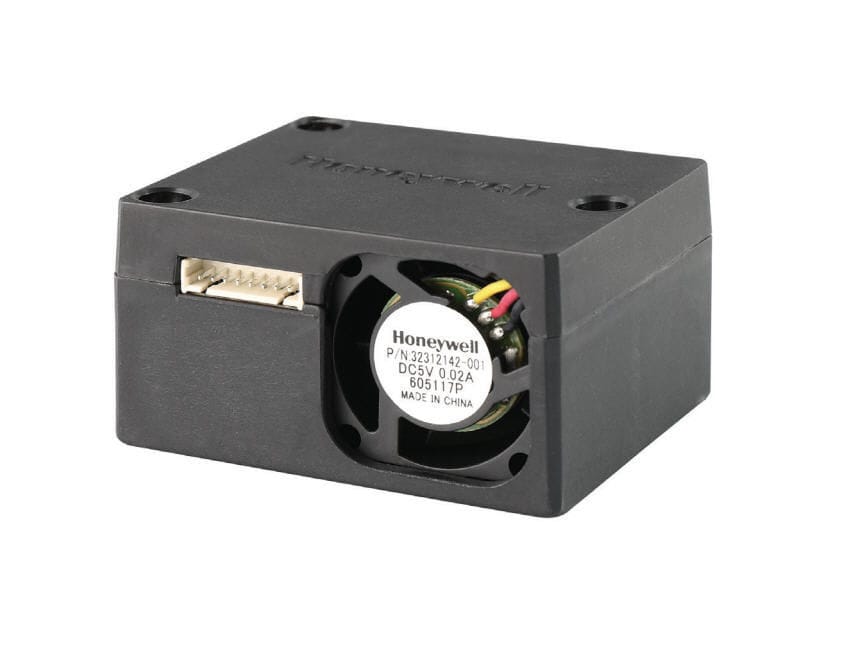 Honeywell's HPM series particle sensor (Honeywell)
The Honeywell HPM series particle sensor is made to work in heating, ventilation and air conditioning (HVAC) systems as well as consumer products such as air purifiers to measure air quality in homes, buildings and public spaces. The sensor has been incorporated in Honeywell's new PM2.5 Indoor Air Quality Detector.
The new sensor can be used in air purifiers, automotive air systems, mobile air quality detectors and other air related products. The sensor uses laser technology to monitor for fine inhalable particles that are 2.5 micrometers in diameter or smaller. The average human hair is nearly 30 times larger at 70 micrometers in diameter.
According to the U.S. Environmental Protection Agency, fine particles that are often generated by burning fossil fuels can settle deep into lungs or even enter the bloodstream and cause health risks.
The sensor outputs an electrical signal that is fed into HVAC control systems. This information can alert building operators that the air purification systems need to be activated or if outdoor air could be used to improve the indoor air quality. It can also alert the building operators when air filters need to be changed or early maintenance needs to be performed on indoor air delivery systems.
The laser-based sensor uses light-scattering methods to accurately detect and count particles in the concentration range of 0 to 1,000 micrograms-per-cubic-meter-of-air (μg/m³) in a given environment. The sensor analyzes the particulate size and concentration in real time to enable systems to provide alternatives and allow operators to take remediation actions.
The HPM series sensor performs accurately in harsh and challenging environments due to its heavy industrial level electromagnetic compatibility. The sensor has a lifespan of 20,000 hours, which allows for stable operations and continuous use.
The sensors work with HVAC and building management systems, like the Honeywell Home and Building Technologies systems that create products, software and technologies in more than 10 million buildings worldwide to increase operational and energy efficiency.
To learn more about this product, visit the Honeywell site.