Sponsored content
Photomicrosensors are compact and low-cost optical sensors used to detect a variety of objects across many industries and applications. While many models include slot-type sensors, reflective sensors, and those featuring separate emitters and receivers, they are all used in the process of detecting the presence (or absence) of certain objects. Simply put, transmissive photomicrosensors incorporate an emitter and a detector facing each other. When an object is located between the emitter and the detector, the object interrupts the optical beam of the emitter, reducing the amount of optical energy reaching the detector.
While the concept is simple, quality levels, physical characteristics, sensor types and mounting methods add to the complexity of the use of photomicrosensors, as well as their expense. To alleviate that complexity, OMRON recently expanded its surface-mount and connector-type photomicrosensor lines. The results of that expansion include time and cost reductions, ease of mounting, size reduction, and more.
Advanced SMD Photomicrosensors
OMRON's surface-mount photomicrosensors allow users to mount OMRON components to PCB boards faster via reflow soldering. Additions to the SMD lineup feature increased slot widths as well as a greater variety of slot-width options. All varieties also offer both phototransistor output and Photo IC output, unlike OMRON competitors. The new additions substantially reduce board space requirements, allowing for more robust circuit designs and mounting on either side of PCBs.
The use of surface-mount devices allowing for more diverse circuits to be made as well as mounting on both sides of the PCB represent a primary advantage. OMRON provides for easier maintenance and shorter production time.
SMD Additions:

Table 1: New Omron SMD Photomicrosensor products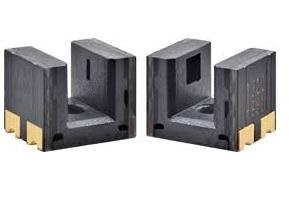 OMRON EE-SX1320/1321/1330/4320 Series Non-Amplified Photomicrosensor
OMRON expanded its photomicrosensor (PMS) lineup to enable reduced production time, provide phototransistor and Photo-IC outputs, and a phototransistor with dual-channel output. The ultra-compact 2-3 mm slot width surface-mount photomicrosensors come with soldering joints on the component for time and cost savings. Features include:
• Varying output types with both phototransistor and Photo-IC
• Choice of a dual-channel output to detect changes in movement direction
• Wider variety of board soldering methods
• Reflow soldering for fast customer manufacturing
• Output options enabling diverse applications
• Photo-IC enabling easy circuit design and output with high-speed response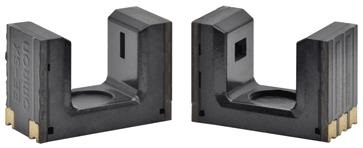 OMRON EE-SX1340/3340/EE-SX4340 Series Photomicrosensor (Transmissive)
The OMRON EE-SX1340/3340/EE-SX4340 SMD-Type Series features a unique slot width of 4 mm. The high-resolution PMS features a 0.5-mm-wide aperture and a choice of two types of Photo-IC output: EE-SX3340: Dark ON and EE-SX4340: Light ON.
Features include:
• 3.5 mm height reduction compared to current 5 mm slot width SMD type
• Surface-mount components enabling mounting on either size of PCBs
• Photo transistor or Photo-IC outputs available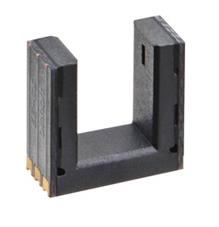 OMRON EE-SX1350/3350/4350 Series Non-Amplified Photomicrosensor
OMRON's Photomicrosensor lineup also now includes the EE-SX1350/3350/4350 Compact Slot, SMD Type PMS with a unique slot width of 5 mm. Soldering joints are on the component for rapid and inexpensive assembly. The high-resolution PMS offers a choice of two types of Photo-IC output: EE-SX3350: Dark ON and EE-SX4350: Light ON.
Features include:
• EE-SX1350 – total product volume reduced by 65 percent compared with existing product
• 5-mm terminal type is widely used in the market
• Available with Photo-IC output and phototransistor output
• Photo-IC enabling easy circuit design and output with high-speed response
• Reflow soldering reducing soldering workload
Advanced Connector Technology
OMRON's recent expansion of connector-type photomicrosensors gives OMRON products the ability to be mounted on an X, Y, or Z axis. This allows for easy mounting capabilities anywhere in a customer's application, where they can be easily screwed onto a device and also easily removed to perform maintenance. Unscrewing the PMS, or disconnecting the wire from the sensor, eliminates the re-soldering of a component back onto the board - a time-intensive process - once maintenance is finished.

Table 2: New OMRON connector additions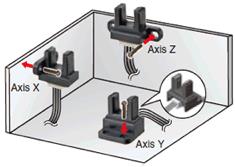 OMRON EE-SX3162/3163/3164 NS EE-SX4162/4163/4164 Series Non-Amplified Photomicrosensor
OMRON's optical sensor lineup expanded with the addition of the EE-SX3162/3163/3164 5-mm slot-width, screw-mount connector photomicrosensors. Transmissive slot-type sensing method models are available for X, Y and Z axes. Features include:
• A variety of product options to address different applications
• Sensor can be mounted anywhere inside an application, off of a PCB for smaller PCBs and reduced production costs – all-in-one structure facilitates downsizing
• Detection in locations away from control PCB solved without additional PCB use
• Zener diode-mounted for greater noise immunity
• Offered with Photo-IC output type (Dark ON and Light ON)
• 5V and 12V
Applications
There are many diverse applications across as many industry segments. Given the size reduction, ease in mounting, and increased options, OMRON photomicrosensor applications continue to grow. Examples of applications that incorporate OMRON's new photomicrosensors include, but are not limited to:
• Printers (paper detection, paper counting, machine part location)
• Money handling (bill counting)
• Gas meter (tamper detection)
• Insulin Pump (insulin flow detection)
• 3-D printers (detect rotations of filament feeder to ensure proper filament amount)
• ATMs (detect presence of card, bill counter)
Summary
OMRON, a pioneer in the photomicrosensor industry, has produced PMS devices for more than 40 years. OMRON's commitment is to continue to expand its optical PMS lines, consistently improving its technology and provide a broad range of solutions that other suppliers simply do not have.