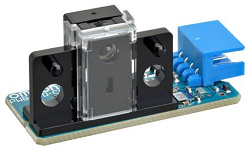 Source: Sager Electronics
Sager Electronics, a North American distributor of interconnect, electromechanical and power components and provider of value-add solutions, is now stocking Omron's new Z4D-C01 micro-displacement sensor.
The reflective type micro-photonic sensor has resolution capabilities to sense displacement of ±10µm. Contact with the object being detected is not necessary thanks to an Omron original design that utilizes a position sensitive device (PSD) signal divider circuit. The PSD signal divider circuit also prevents any variation in object color from affecting the linear output voltage and displacement relationship.
These new micro-displacement sensors are ideal for copiers, cash dispensers, digital printing, mini printers and point-of-sale systems.