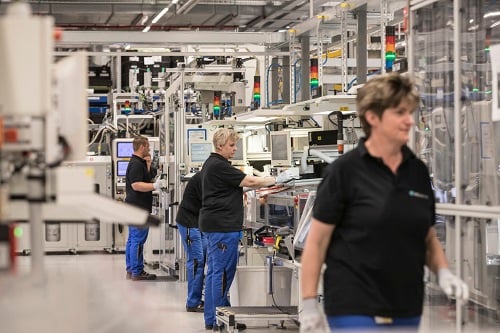 Battery production facility at Daimler's Kamenz, Germany, factory. Image credit: Daimler
In an effort to further its push into electrification in vehicles in China, Daimler says it will invest in a new battery factory in China, a project stemming from its Beijing Benz Automotive Co., Ltd. joint venture with BAIC Motor.
Daimler and BAIC will jointly invest about $743 million in the production of battery electric vehicles under the Mercedes-Benz brand and in battery localization at the site. This includes a three-digit million-dollar investment for the battery production by the joint venture. Local production of battery-powered vehicles is slated to begin in 2020.
"Building another premium eBattery factory is the next step in the implementation of our electric strategy," said Markus Schäfer, member of the divisional board of Mercedes-Benz Cars, production and supply chain. "Thus, we have the first foreign location in our global battery production network. The local production of batteries is crucial in order to meet the demand for electric vehicles flexibly and efficiently."
Daimler says the factory will be part of the global battery production network, which includes the site at Kamenz, Germany, and the site at Saxony, Germany, where a second battery factory is currently in production.