As Tesla Motors has proven, automotive OEMs are striving to be more than just car companies these days after cutting their teeth developing technologies to make lithium-ion batteries run electric cars.
Stationary energy storage is seen as a feasible transition for automotive companies because it utilizes the same technology they are already working with to collect and store electricity either from the grid or through solar installations. The idea of energy storage focuses on the ability to collect energy during non-peak periods of the day when energy costs are the cheapest, and then utilize this collected energy during peak hours to save on costs as well as help to balance grid demand.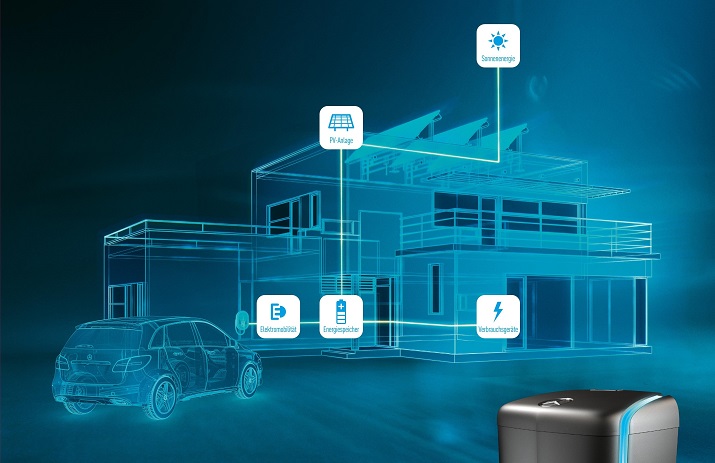 Stationary energy-storage systems can help power a home during an outage, store non-peak energy for use during peak costly energy times, or even power a hybrid or electric vehicle. Source: Daimler AG In April, Daimler AG began shipping its Mercedes-Benz stationary energy-storage units in Europe, and now the company is expanding its reach into the United States. It is establishing a new subsidiary, Mercedes-Benz Energy Americas, LLC, to help in the development and sale of the systems to residential, commercial and utility customers. The initial storage units will be initially available beginning in early 2017.
Each battery module inside the Mercedes-Benz storage system has energy content of 2.5 kWh that can be combined up to 20 kWh if paired with other stationary storage systems. Daimler says it will also work with commercial and industrial customers to develop even larger energy-storage systems toward the latter part of 2017.
With the advent of increased electric vehicles coming to market and the demand for more environmentally friendly ways to generate and store electricity, lithium-ion batteries are in high demand despite some of the challenges that have been happening in mobile and consumer devices. As a result, Daimler is investing about $561 million to construct a second lithium-ion battery factory at its Deutsche Accumotive site in Kamenz, Germany. The new facility is due to begin operation in the summer of 2017.