ABB (Zurich, Switzerland) has delivered five new 66 kV WindStar transformers to MHI Vestas Offshore Wind for deployment at EDF's 41.5MW Blyth offshore wind demonstration project off the coast of Northumberland, UK. The newly developed transformer fits into the tower of a wind turbine and boosts voltage levels to 66 kV, twice the existing 33 kV level.
The increased voltage will reduce losses and make wind generation systems more efficient, as well as bringing lifecycle benefits and cost-efficiency gains.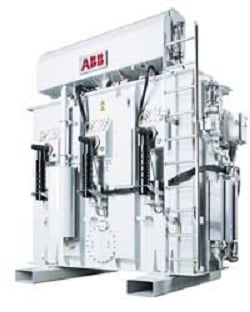 (Source: ABB)
The Blyth Offshore Demonstrator is a 41.5 MW, five-turbine wind farm with the capacity to deliver clean power to 34,000 homes.
The company will supply another 11 such transformers to be deployed in large-scale offshore wind turbines at the European Offshore Wind Deployment Centre. This offshore wind test and demonstration facility, located about 2.4 km off the coast of Aberdeen Bay, will incorporate a 92.4-MW offshore wind power plant with capacity to meet the annual electricity demand of nearly 80,000 homes.