Nums is a new smart accessory that can transform your trackpad into a calculator and launch your favorite apps and websites with one swipe. Nums has patented algorithms that provide these easy launches.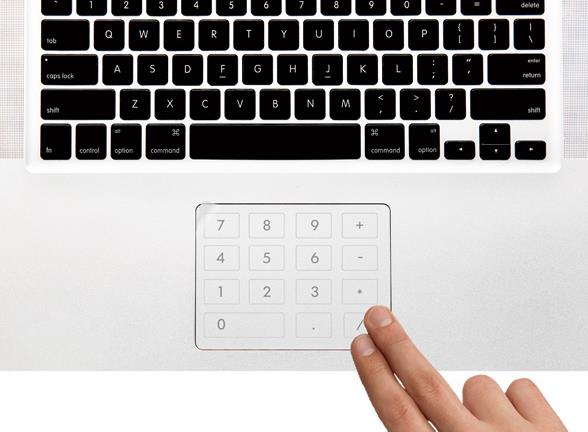 Nums Smart Keyboard for Macboosk (Nums)
There are three modes on the Nums keypad. Classic Number Keyboard switches your trackpad to a number keyboard. When you need to type numbers into an email or document, you can switch to number typing right on the keypad. Quick calculator mode launches the calculator in 0.2 seconds, allowing for quick calculations. Swift Launch mode allows you to launch apps, websites, and shortcuts that you pre-set when you download the Nums App, at the same time. You can customize the swift launch by dragging and dropping your preferred websites, shortcuts and apps into the Nums app and launch them quickly through the keyboard.
When tested, Nums has 2.3x faster number typing speed and -66 percent finger movements than a common Macbook keyboard. It also has +31 percent app launching speed. The glass is 0.26mm thick, making it nearly undetectable from your regular keyboard, according to Nums. The glass has acid etching, which produced the thin and smooth glass. It also has Ion exchange, making the glass flexible, and metallic 0.0001mm ink, making it more durable and easy to use in the dark. According to Nums, the keyboard is scratch free, water resistant, fire resistant and environmentally friendly.
Nums is currently on Kickstarter with $5,647 of its $50,000 goal raised with 38 days left of their goal. If they reach their Kickstarter goal, they plan on expanding the Nums line. They want to add more colors and work on expanding their line for Windows computers.
Nums is compatible to all Macbooks currently on the market. To apply Nums to your trackpad, stick the Nums keypad to the trackpad, and download the application from luckytech.com.
To learn more about this trackpad, visit the Kickstarter site.