Make no mistake. Smartglasses have a tough row to hoe before they achieve mainstream status. Google Glass proved that looks do matter. Moving forward, a successful design will have to do a better job of blending into the personal electronics landscape. Smartglasses also desperately need their own "killer app"— something that they can do better than any other type of device. Taking this concept one step further, the technology must be able to compete with tablets, laptops and smartphones—devices that dominate the market today.

One of the companies to take up the challenge is the Osterhout Design Group (ODG). Building on the experience it has gained in providing defense agencies with high-end night-vision goggles, the company has developed the R-7 augmented reality-enabled smartglasses, targeting industrial, enterprise and consumer applications while courting developers.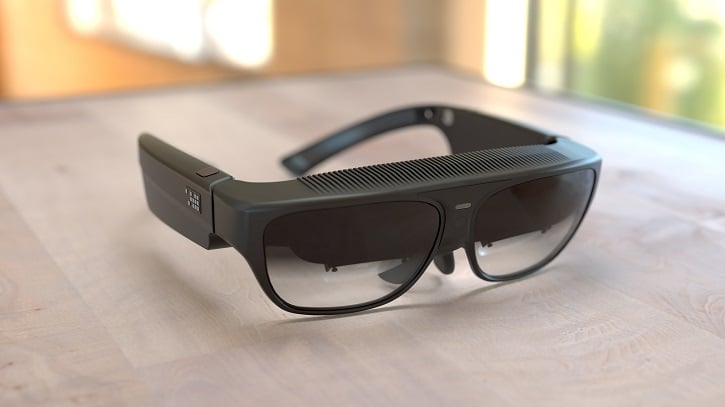 The R-7 smartglasses from the Osterhout Design Group aim to deliver a unique immersive computing experience, empowered by ultra-transparent 3-D stereoscopic displays and a variety of connectivity options. Image source: Osterhout Design Group.
Distinguishing Characteristics

Learning from Google's fashion faux pas, the R-7's designers have come up with a next-generation computing platform that resembles sports glasses—albeit a little bulky. If ODG can achieve a subtler form factor without sacrificing functionality, appearance will be a non-issue.

The big question is: What can the R-7 glasses do that sets them apart from the competition? ODG's response to this question is: immersion. "The reason we focused on smartglasses instead of a notification system was our desire to enable the user to interact with the world in a deep and meaningful way," says John Haddick, chief technology officer at ODG. "We also set out to develop a system that would be useful for consuming, creating and sharing information, so display resolution and quality were very important to be able to read clear text and browse full websites."

Heavyweight Hardware

To provide this level of performance, ODG has incorporated processing and communications components in its glasses equal to those found in high-end tablets and laptops. A look under the hood reveals a Qualcomm Snapdragon 805 2.7 GHz quad-core processor, supported by 3 GB of Pop LP-DDR3 RAM and 64 GB of storage. To optimize the smartglasses' performance, ODG has deployed its custom-made ReticleOS, which sits atop Android Kit Kat.

"The ReticleOS platform supplies additional functionality to ensure the safety and usability of smartglasses, providing guidelines for the most effective visuals for see-through, head-worn content," says Haddick. "For example, standard Android has no concept of dual-display rendering for 3-D content. It assumes that if you are looking at the display then you are available to view a popup notification, which could be unexpected or even dangerous in a head-worn system, but the ReticleOS solves these issues."

In the sensing department, the glasses incorporate an autofocus camera (1080p @ 60fps, 720p @ 120fps) and two digital microphones, as well as altitude, humidity and ambient light sensors. The glasses also include a Multiple Integrated Inertial Measuring Unit, which consists of a three-axis accelerometer, three-axis gyroscope, and three-axis magnetometer.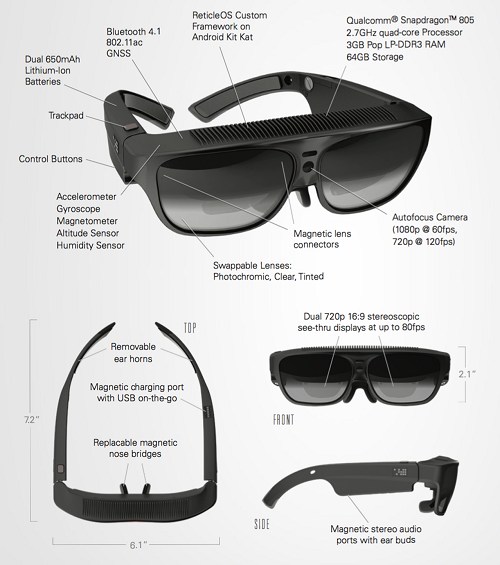 The designers have packed the R-7 smartglasses with first-rate processing, communications and sensing components. The goal is to provide functionality that matches or exceeds that found in high-end tablets and laptops while delivering a truly unique user experience. Image source: Osterhout Design Group.

The suite of sensors enables the glasses to know where they are, where they are looking and the direction the user is headed. ODG has optimized the sensors and display pipelines for head-worn computing and augmented reality, synchronizing frame rates for low-latency results.

The R-7 glasses also support a variety of wireless technologies, including 802.11ac Wi-Fi and Bluetooth 4.1, allowing them to connect to remote content and data sources and stream video and audio. Furthermore the USB port makes it possible to boost the range of the onboard wireless systems with extended-range Wi-Fi, and it allows users to take advantage of cellular data capabilities. The same connectivity allows users to control the glasses via a wide range of accessories.

To power the platform, the designers chose lithium-ion batteries. These provide all-day functionality under normal use. For energy-intensive applications or multi-day use, you can use the external battery expansion pack. ODG has tailored the glasses to consume the minimum power necessary to complete a task, leveraging multiple levels of automatically activated standby modes.

A Multi-faceted Interface

The smartglasses' onboard controls include standard Android buttons and an optical trackpad. In addition, the glasses offer basic voice and gesture control, as well as connectivity to standard Bluetooth devices and a suite of accessories that include the company's 3-D Speed Mouse ring and keyboard gaming controllers. ODG also offers a proprietary application that users can load on Android and iOS devices to control the glasses.

Unlike other wearable devices, the glasses do not require smartphone support. "The R-7 is a fully self-contained Android device, much like a tablet in every way except for the unique stereoscopic 3-D see-through displays," says Haddick.

Emphasizing the Visual

While the R-7's hardware is impressive, ODG plans to capture the market's attention with the platform's ability to display visually stunning images for both eyes. "Consumers have become accustomed to carrying around amazing image quality with tablets and even smartphones in their pockets, so consumer glasses will need to be at least as good of an experience and do more to replace or be carried with existing products," says Haddick.

To achieve this goal, the designers had to find a way to deliver high-quality presentations while achieving near-real-time responses. To this end, the R-7 glasses have two 720p displays (one for each eye) that use optics that display transparent content, cover a greater portion of your sight lines than Google Glass, and deliver content at 80 frames per second. Because each display projects a slightly different image than the other, the glasses support stereoscopic 3-D images.

Taking these capabilities one step further, ODG has developed a prototype that delivers a high-definition, cinema-wide field of view. The device boasts 1080p resolution in each display, greatly expanding the visual capabilities of head-worn computing to support immersive 3-D stereo images.

Moving Forward

ODG hopes to leverage the global Android developer network to bring a broad spectrum of new use cases to market, taking augmented reality-enabled smartglass technology to the next level. These applications could run the gamut from entertainment and telepresence to telemedicine
Targeting more than consumer applications, the Osterhout Design Group looks to the healthcare, energy, transportation, and warehouse and logistics markets to show how head-worn, augmented reality-enabled platforms can define next-generation computing. Image source: Osterhout Design Group. and remote expert assistance.

Over the next five years, the company plans to offer smaller, more affordable packages. In the process, it will enhance users' interactions via greater immersion.