In June, Electronics360 reported on the possible 2018 release of the Microsoft Andromeda folding mobile device. The new Surface Mobile or Surface Phone is a dual-display folding tablet running an iteration of Windows 10 under Microsoft's Windows Core OS effort codenamed Andromeda OS. The tablet features digital ink technologies and can be used in five configurations. Windows Central is now reporting that Microsoft has delayed the release of Andromeda until 2019 and that the cost will be somewhere around $1000.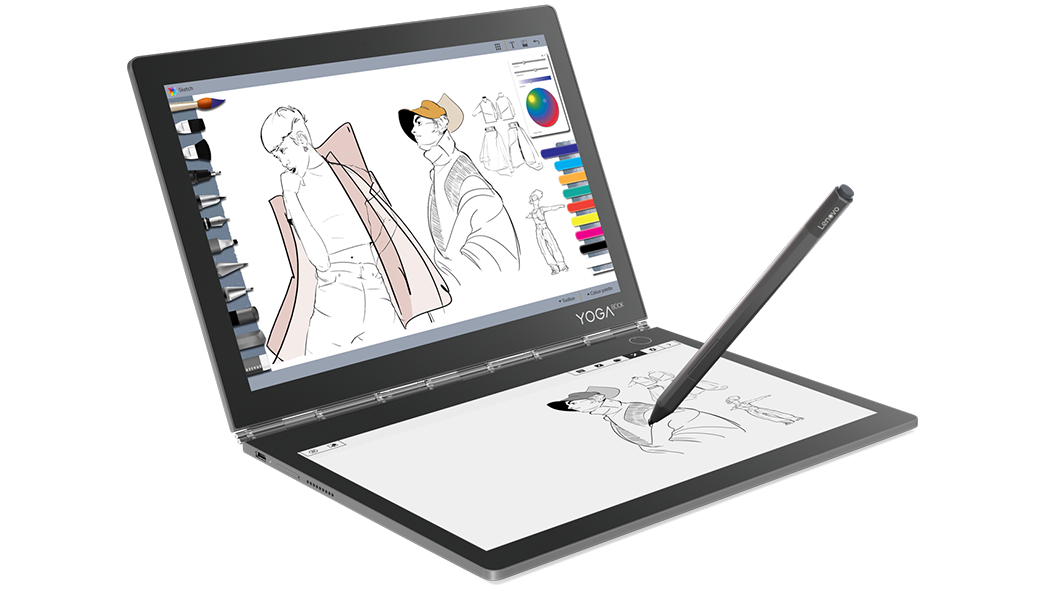 Lenovo Yoga Book C930. Source: LenovoIntel also displayed a working concept dual-screen Windows 10 PC named Tiger Rapids at Computex 2018, although it is unknown if it will actually be released to consumers. Rumors are that an Intel manufacturing partner is planning to release a similar device by the end of 2018.
Lenovo has entered the dual-screen display tablet market competition with the Yoga Book C930. Lenovo had the Yoga Book C930 on display at the IFA 2018 exhibition in Berlin August 31 through September 5. The Yoga Book should not be confused with the Yoga C930 2-in-1 laptop that has a similar name but features a standard keyboard.
Like Andromeda and Tiger Rapids, the Lenovo Yoga Book C930 is a foldable, dual-screen mobile device. Instead of a standard keyboard, the Yoga Book has a dynamic E Ink screen to go along with a 10.8" QHD touchscreen display (2560 x 1600). The dynamic E Ink screen morphs into a notepad, reader or keyboard depending on the application needs. The keyboard has the appearance of a standard backlit keyboard, with key shadows to make it appear three-dimensional. When you touch the key it animates to appear as if it has been depressed and offers a haptic feedback vibration. It also features a virtual trackpad area, similar to a standard laptop. Because the keyboard is virtual, it supports thirty different languages.
Also similar to Andromeda and Tiger Rapids, the 2-in-1 Yoga Book can be used in a variety of configurations.
The Yoga Book C930 can be used in a variety of configurations. Source: LenovoOne of the most original features of the laptop is the method for opening the two halves from a fully closed position. The Yoga Book measures 7.1 x 10.25 x 0.39 in. (179.4 x 260.4 x 9.9 mm) and weighs only 1.71 lbs (775 g). The device's thin design could make it difficult for some users to open without long fingernails to fit between the two screens. To get around this, Lenovo incorporated an accelerometer and memory metal, attached to a magnet. When you tap twice on the top screen the accelerometer detects it and the magnet separates the two halves using the principle that like poles are repelled by each other. This creates a gap between the two screens, making it easy to open.
Yoga Book C930 runs the Windows 10 OS and comes preloaded with Microsoft OneNote, Lenovo Vantage, Microsoft RDX, Dolby Atmos, E Ink Keyboard, E Ink Note, E Ink Reader and E Ink Settings. It also comes with a Lenovo Active Pen for use with the E Ink screen. Battery life is up to eight hours, allowing for all-day use.
Other features include two speakers, up to a 256 GB SSD, a microSD slot that supports up to 512 GB, two USB-3.1 Type-C ports, a 2MP HD camera with microphone, and supports both 802.11AC Wi-Fi and Bluetooth 4.2.
The Yoga Book C930 is scheduled for a late October 2018 release with a U.S. price tag of $999.

Side view of Yoga Book; Source: Lenovo