Chassis Plans' new 1U CLX military grade rackmount display is designed to perform and engineered to last.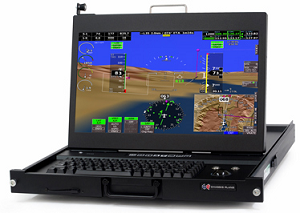 Source: Chassis Plans Meeting military standards such as 901E and 810G for ruggedization, its 5052-H32 aluminum construction and locking stainless steel hardware make the display inherently rugged and reliable for both military and industrial harsh environment applications.
Applications for the display, which was designed and built in the U.S., include test and simulation, telemetry, persistent surveillance and unmanned aerial vehicle ground control.
The CLX offers two LCD screen sizes: the standard 19 in. display providing a native 1,280 x 1,024 resolution or a 17.3 in. wide screen display with a 1,920 x 1,080 native resolution. Both the 19 in. and 17.3 in. panels offer high bright options for daylight readability applications, and feature options for optically bonded EMI shield as well as protective cover glass.
Three extended temperature, conformal coated high MTBF video controller options are also provided. The C1 controller option offers VGA, DVI-D video input options, and the J1 controller delivers VGA, DVI-D, S-Video and composite video. Both controllers are recommended for the 19 in. panel. The H1 controller offers VGA, DVI-D and HDMI inputs and is perfect for the 17.3 in. panel driving the HD resolutions.
Two keyboard choices are available: an 83-key full travel keyboard with integrated USB optical trackball or touchpad, or a "splash-proof" 82-key full travel keyboard with red LED backlit keys and optional USB 38-mm sealed trackball or multi-gesture trackpad.
The CLX has (5) power input options: the standard AC power input, 12VDC, 28VDC (MIL-STD-704/1275), 12VDC to Chassis Plans workstation or 48VDC (MIL-STD-704/1275). All power options come with a locking power cable assembly.