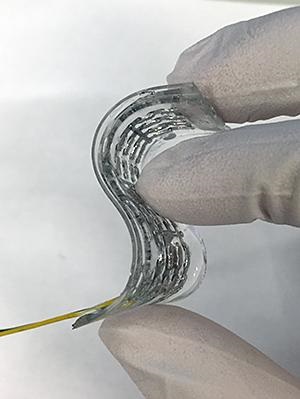 Liquid metal in the flexible theromelectric device is capable of self-healing.(Credit: Mehmet Ozturk/NC State University)Flexible, wearable devices that can be used to monitor your health or your environment are increasing in popularity – yet they can't beat the performance and efficiency of traditional rigid devices, which have a superior ability to convert body heat into usable energy.
Until now, that is. North Carolina State University engineers have designed a flexible thermoelectric energy harvester with the potential to rival the effectiveness of existing wearables.
"We wanted to design a flexible thermoelectric harvester that does not compromise on the material quality of rigid devices, yet provides similar or better efficiency," said Mehmet Ozturk, an North Carolina State professor of electrical and computer engineering and corresponding author of a paper describing the research. Ozturk notes ergonomic and comfort considerations, as well as the superior skin contact afforded by flexible devices, as reasons for developing them.
It was also important to the researchers to use thermoelectric materials already used in rigid devices, so flexible device manufacturers wouldn't need to develop new materials.
One of the key challenges, according to Ozturk, is to use reliable, low-resistivity interconnects to connect thermoelectric elements in series. "We use a liquid metal of gallium and indium – a common, non-toxic alloy called EGaIn – to connect the thermoelectric 'legs,'" he said. "The electric resistance of these connections is very low, which is critical since the generated power is inversely proportional to the resistance: Low resistance means more power."
Liquid metal also offers stretchability, and reconnects if a connection is broken – giving it a "self-healing" function not present in rigid devices.
According to the paper's abstract, research results suggest that "this novel approach can finally produce flexible TEGs (thermoelectric generators) that have the potential to challenge the rigid TEGs and provide a pathway for the realization of self-powered wearable electronics."
The research group, which has a pending patent application on the technology, is funded by the National Science Foundation, through NC State's Advanced Self-Powered Systems of Integrated Sensors and Technologies (ASSIST) Center. The mission of the ASSIST Center is to create self-powered wearables capable of long-term, multi-modal sensing without the need for replacing or recharging the batteries.