This week, a new promising technology was developed in a proof-of concept study by a team of engineers at the North Carolina State University. The team designed a new flexible thermoelectric energy harvester using body heat as the only source of energy. The idea of using body heat to generate the energy needed to drive electronic wearables is not new. However, so far this has been successfully accomplished only with rigid wearables. For flexible wearables, the development of efficient harvesters have been very elusive. For body harvesters it is important that the thermoelectric generator (TE) to be thin, flexible and soft. Unfortunately the flexible modules developed do not match the performance of the rigid TEs. Until now.
The team, headed by professor Mehmet Ozturk of the electrical and computer engineering department, developed the system by using the same thermoelectric materials used in rigid devices mounted on a flexible package. In this way manufacturers will not need to develop new materials.
"We wanted to design a flexible thermoelectric harvester that does not compromise on the material quality of rigid devices yet provides similar or better efficiency," he said. "Using rigid devices is not the best option when you consider a number of different factors." A key factor in the success of this research is the use of EGaIn liquid metal interconnects that provide superior contact resistance, stretchability with self-healing.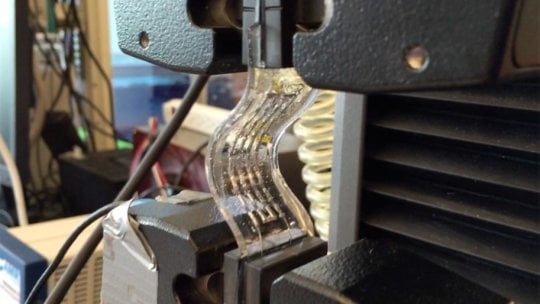 NC State's thermoelectric harvester has the material quality of rigid devices inside a flexible package. Credit: Mehmet Ozturk, NC State University
"We use a liquid metal of gallium and indium – a common, non-toxic alloy called EGaIn – to connect the thermoelectric 'legs.' The electric resistance of these connections is very low, which is critical since the generated power is inversely proportional to the resistance: Low resistance means more power. Using liquid metal also adds a self-healing function: If a connection is broken, the liquid metal will reconnect to make the device work efficiently again. Rigid devices are not able to heal themselves," Ozturk concluded.
Future works will try to improve efficiencies of these TEs by using components and materials to eliminate parasitic resistances.
The results of the team efforts will be published in September 2017 in Applied Energy. An abstract can be found here: http://www.sciencedirect.com/science/article/pii/S0306261917307420