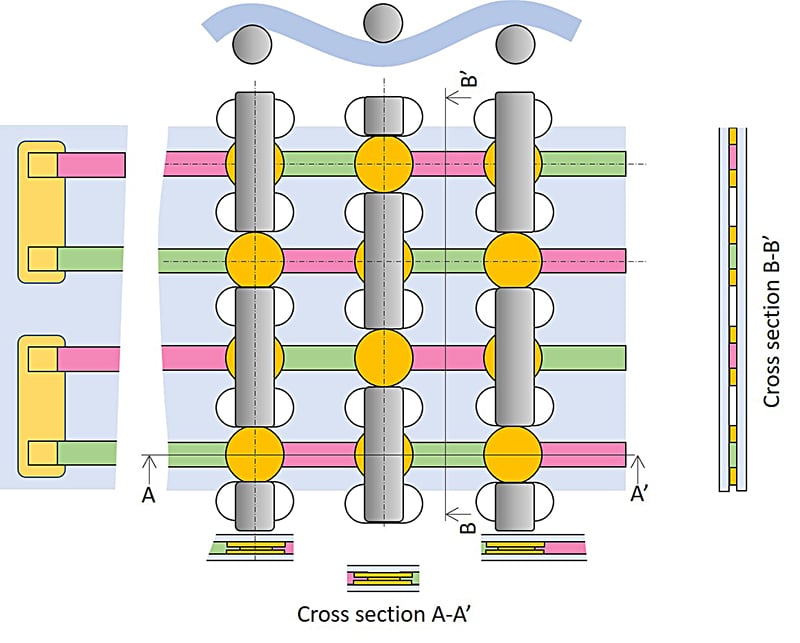 Researchers at Purdue University have created a technology to address the thickness issue for wearable power generation. Source: Purdue UniversityIn 2017, Purdue University researchers developed a way to use a person's body heat to power wearable electronics, such as exercise monitors and other internet of things (IoT) devices. The team's flexible thermoelectric generator incorporated semiconductor strings woven into a fabric. The generator could convert heat from any type of complex surface it touched into a small amount of electricity.
One of the major breakthroughs of this design was that it resolved the challenge of width by replacing conventional thermoelectric generators with the woven semiconductor strings. Kazuaki Yazawa, a research professor at Discovery Park's Birck National Nanotechnology Center at Purdue, explained that in order to generate enough output, the device would need to be greater than 1 in thick, which limited the technology's use. At that size, it would be rigid and unable to conform to the body. The fabric the team created is more flexible, easier to manage and can be used in clothing or on anything that can be wrapped in it.
Recently, the university announced that the team, working at Birck, has come out with an improved version of the generator that is suitable for people, pets and machinery. The technology now uses a polymer or a variety of yarns woven into a polymer film or fabric sheet with a printable pattern of thermoelectric materials, which is more suitable for industrial production. The old one needed precise alignment, which limited its mechanical flexiblity. This one is more reliable because all the necessary contacts are on the same film. The new version incorporates punched holes into the printed pattern to allow an electric insulated thread to pass between the two sides and connect the hot and cold side surfaces. This is useful for monitoring aspiration during sports or exercise.
"There are several potential areas of application for this technology for both humans and animals," Yazawa said. "It can be used for biomonitoring humans or animals, along with applications for industrial machining where the unreachable curved surface can be used for sensing and machine health monitoring."