The capacity to power wearable electronics without the use of batteries has been developed by an international research team in the form of a low-cost, wearable thermoelectric generator. The flexible device harvests the heat naturally produced by the user and converts it to electricity.
The devices have been demonstrated to generate around one volt of energy for every square cm of skin, sufficient to power watches, fitness trackers, health monitors or other personal electronics. Worn as a ring, bracelet or other accessory that touches the skin, the generator is self-healing and fully recyclable.
Thermoset polyimine serves as both the substrate and encapsulation for liquid-metal wiring in a soft motherboard-rigid plugin module system hosting modular thermoelectric chips. Cyclic bending tests confirmed excellent mechanical robustness, with no marked change observed in resistance and power output when the thermoelectric generator device was stretched by up to 120%. These properties enable the devices to be adaptable to rapidly changing mechanical and thermal conditions and user requirements.
The researchers liken the design architecture to Legos and note that power output can be increased with the addition of more plugin modules.
Scientists from Harbin Institute of Technology (China), University of Colorado Boulder, Southeast University (China), Zhejiang University (China), Tongji University (China) and Huazhong University (China) contributed to this development, which is described in Science Advances.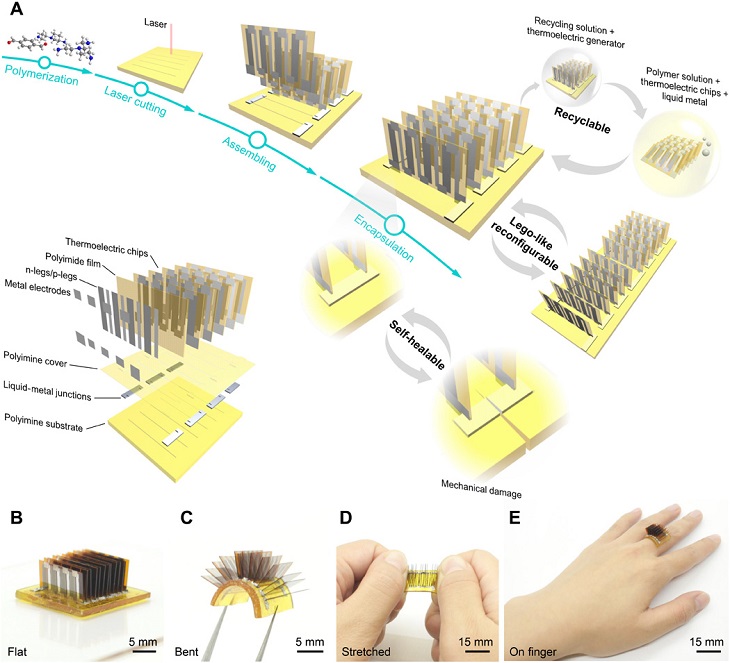 A) Schematic illustration of the design and fabrication process. Optical images of the thermoelectric generator when flat (B), bent (C), stretched (D), and worn on the finger (E). Source: Yan Sun, University of Colorado Boulder.