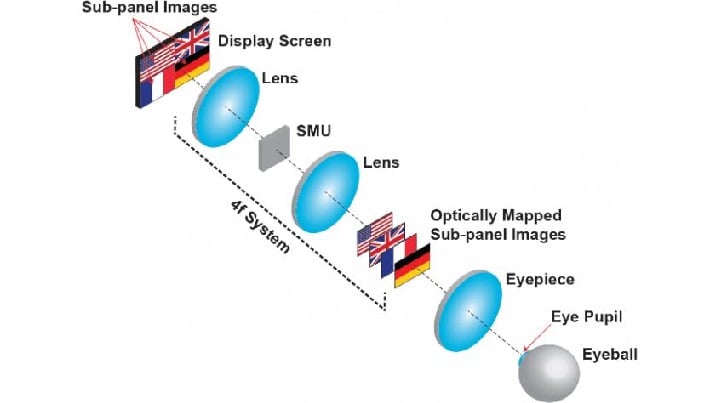 Creating a 3D image with optical mapping. (Credit: Ling Gao/University of Illinois at Urbana-Champaign)There's a reason that augmented reality glasses and virtual reality headsets are still mostly a novelty -- eye fatigue makes them uncomfortable to use for extended periods. But a new type of 3D display could change that.
"We want to replace currently used AR and VR optical display modules," said Liang Gao, of the University of Illinois at Urbana-Champaign. "Our method could lead to a new generation of 3D displays that can be integrated into any type of AR glasses or VR headset."
As reported in the journal Optics Letters, Gao and colleague Wei Cui have developed an optical-mapping display module that produces depth cues that users can perceive in much the same way as they do in the real world.
By contrast, today's AR and VR devices present 2D images as a stereoscopic display that cues the user's brain to combine them into a 3D impression. But over time, it becomes harder for the viewer to fuse the images -- a phenomenon known as a vergence-accommodation conflict which it causes discomfort and eye fatigue.
The new display, which measures just 1" x 2", presents actual 3D images using an approach called optical mapping. This is done by dividing a digital display into subpanels that each create a 2D picture. As a viewer looks through an eyepiece, a spatial multiplexing unit (SMU) employs light modulation to shift each subpanel image to a different depth while aligning all the image centers with the viewing axis. The researchers created an algorithm to blend the images, making the different depths appear continuous -- and creating a unified 3D image.
In order to ensure a clear image within the subpanels, the researchers used an organic light-emitting diode (OLED) to maximize resolution.
To test the device, the researchers displayed a complex scene of parked cars and placed a camera in front of the eyepiece to record what a human eye would see. They found that the camera picked up on depth of field cues just as it would in the real world. It could focus on the close-up cars, and the background would appear blurry and could also focus on far-away cars, and the foreground would appear out of focus.
Currently, the researchers are working on reductions to system size, weight and power consumption.
"In the future, we want to replace the spatial light modulators with another optical component such as a volume holography grating," said Gao, noting that this would allow the device to be more compact and hence more suitable for VR headsets or AR glasses.