Application developers are racing to have their software ready to go when Google Glass, the wearable computer with an optical head-mounted display, finally becomes available to the general public by year-end.
But while most apps will focus on the infotainment space, analysts predict there will be a huge secondary opportunity for app development in healthcare and physical-activity monitoring.
Indeed, Shane Walker, associate director for Consumer and Digital Health Research at IHS, believes blood glucose meters, cholesterol meters and pill dispensers are just a few of the dedicated medical devices that could potentially tie into Glass via Bluetooth connections.
"You might have the app set up for automatic reminders to the Glass wearer with recurring data points throughout the day," he said, "or Glass could provide warnings through the eyepiece that there might potentially be a problem of which the wearer needs to be aware."
In a recent online presentation hosted by Kaiser Permanente's Center for Total Health, app developer Silica Labs demo'd Glass, indicating that one of the company's objectives is to develop healthcare apps for the device.
But right now, said Antonio Zugaldia, Silica Labs' chief builder, the Google API isn't optimized for real-time streaming, so connecting to peripheral devices — such as activity monitors — would require a workaround.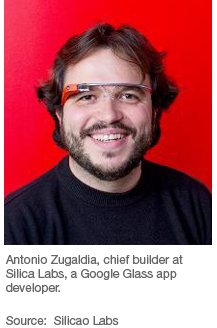 However, said Walker of IHS, the Glass software is updated on a monthly basis, and Google did add video streaming in a recent update to the Mirror API. Meanwhile, developing native applications can be done using the Android Software Development Kit (SDK), even though this is something of a workaround until the full Glass Development Kit (GDK) arrives for native applications.
For the time being, however, a handful of app developers are proceeding with their healthcare-related creations:
CPRGlass. An app that will guide users step by step on how best to perform CPR. It will contact 911, inform users regarding adequate compressions (by playing the disco hit "Stayin' Alive," whose beat guides the user to compress at a rate of 100/min.), let users know if there is an automated defibrillator nearby (information which comes from AED4.US's crowd-sourced database), and perhaps contact someone nearby the AED to ask them to bring it to the user if possible. At the moment, CPRGlass is in the prototype stage, but its developer, Dr. Christian Assad-Kottner, interventional cardiology fellow at the University of Arkansas for Medical Sciences, hopes to release a beta version soon to selected Glass testers.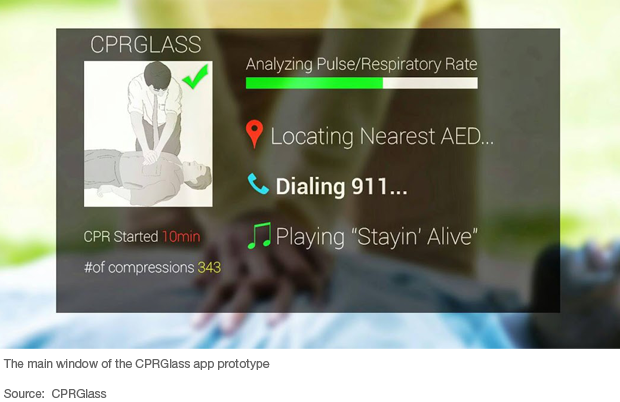 CATHGlass. Also on the drawing board of Dr. Assad-Kottner, this app for cardiologists will provide important patient information during procedures.
Cerora's MindReader. BrickSimple, a developer of mobile apps, has demonstrated wireless Google Glass integration with Cerora's MindReader over Bluetooth. The MindReader technology is designed to help medical personnel identify head injuries in both battlefield and sports scenarios.
"When you're dealing with head injuries," said Det Ansinn, BrickSimple's president, "time spent glancing away at equipment is time not spent on studying the patient for important visual cues. The integration of Google Glass with MindReader will improve the physician/patient experience and potential for better diagnosis."
And at mobile app developer Somo, senior innovation manager Joel Blackmore reports the company recently held a companywide "Hack Day" to encourage staff to come up with ideas for development. Of the seven proofs of concept that emerged, two medical-specific POCs are being turned into fully formed products to showcase to clients as part of Somo's Innovation Lab:
For diagnosing patients. The app will allow a doctor to use Glass to diagnose symptoms more accurately. Speaking into Glass, the doctor might say: "Patient has the following symptoms – itchy skin, fatigue, dry patches, and insomnia." Glass might respond with two possible diagnoses – food allergy or mercury toxicity.
For the operating room. The app could help a doctor compare a patient's anatomy to a normal or healthy standard. The doctor might say: "Glass, show me what a normal liver looks like." Glass would respond with an appropriate image.
Because users hear Glass not through typical headphones or earbuds but through a bone-conduction transducer, Walker of IHS believes — and a professional audiologist concurs — that there will be an opportunity for Glass to be used for hearing augmentation.
"If you have one-sided deafness, you could potentially use the bone conduction transducer as a hearing aid," Walker explains. Companies like TransEar currently employ that technology, he says, but their device is constructed to fit into the ear canal. Fairly common, too, are implanted bone conductors for severe hearing loss.
"Using Glass for this purpose wouldn't require an implant, which involves a surgical procedure and is very expensive," he says. "For some people this would be an inexpensive alternative. I can even imagine using speech-to-text technology so that the written words would display on the Glass eyepiece, making the app even more powerful."
With a little imagination, says Dr. Assad-Kottner, one can conceptualize all sorts of possible medical uses for Glass. For instance, he says:
Help With Procedures. Imagine this: A resident says, "OK, Glass, call Dr. Smith." Dr. Smith responds (via Glass) and the resident explains that he is stuck and not sure how to proceed with a patient. Dr. Smith may recommend a different approach since he is able to see what the resident sees – or he can instruct the resident to stop the procedure altogether.
Electronic Medical Records [EMRs]. Teams like Evermed are working on an app to use Glass with EMRs. A patient would come into the doctor's office, Glass would identify the patient using facial recognition and then pull up the most recent medical information for the doctor to view instantly, such as allergies, previous plan, if goal was achieved, scheduled procedures, results from last ordered tests, and so on. (In a challenge to the marketability of this app, Google recently announced that it is banning facial-recognition applications for the near-term until privacy concerns are addressed.)
Telemedicine. Dr. Assad-Kottner has experimented with a colleague to do the first cardiology consult over Glass. "The way it felt," he says, "was practically like being next to the patient."
Jack Kent, IHS principal analyst, mobile, said he definitely agrees that medical applications, as well as industrial use cases where hands-free access to information is useful, "will be a real opportunity for Google Glass.
"For the past few years, smartphones and tablets have dominated developer activity with new apps and experiences tailored to the specific demands of those devices," he said. "Google Glass is one of a number of new devices that will hope to attract the developer expertise. It is important to remember that these will usually be tied to a smartphone to provide core functionality and connectivity. But the overall app experience will be very different."
Image at the top of the page is Google Co-Founder Sergey Brin demo'ing Google Glass (Photo Credit: Paul Sakuma/AP)