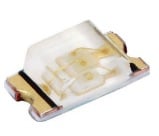 The VLMTG1400 series. Source: Vishay IntertechnologyVishay Intertechnology, Inc. has introduced a new series of true green light-emitting diodes (LED) that achieve high luminous intensity up to 2,800 mcd.
The VLMTG1400 series measure 1.6 mm by 0.8 mm in an ultra-thin 0.55mm profile and work in arduous environments such as backlight keypads and displays for navigation systems, smartphones, industrial control systems and traffic signals and message boards.
The LEDs have a typical wavelength of 525 nm and forward voltage from 2.75V to 3.2V. The LEDs are available in 8mm tape and are RoHS-compliant, halogen-free and compatible with IR-reflow soldering processes as well as preconditioned according to JEDEC Level 2a.
The VLMTG1400 series is in production and sample quantities are available.