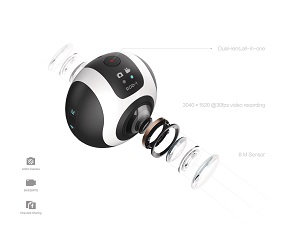 The ROD-1 spherical camera. (Source: CEVA)CEVA, Inc. has announced that its imaging and computer vision digital signal processor (DSP) is powering Evomotion Technology, Ltd.'s ROD-1 360-degree 4K resolution dual-lens spherical camera.
The ROD-1 is capable of taking 3K resolution, 30-frame-per-second videos and 4K resolution photos with panoramic sticking in real-time. The computer vision DSP eliminates the need for post-processing on a smartphone or a PC.
The ROD-1 uses the Rockchip RV1108 visual processor, which includes the CEVA-XM4 DSP to handle advanced imaging and computer vision tasks. CEVA and Evomotion intend to extend their partnership to include broader imaging solutions for dashcam, sports camera, SLAM and real-time 3-D reconstruction in the future.
THE ROD-1 camera is available now.