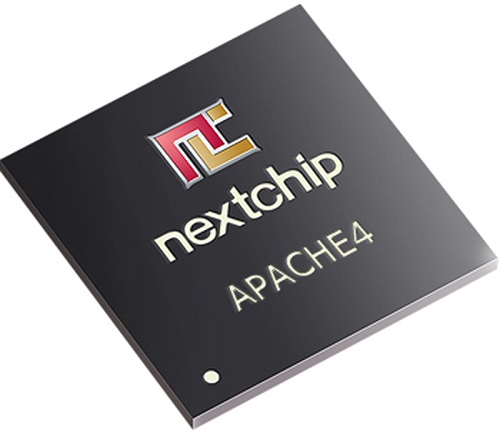 The Apache4 pre-processor. Source: NextchipFabless chip vendor Nextchip Co. Ltd. has licensed CEVA Inc.'s imaging and vision digital signal processor (DSP) intellectual property (IP) for use in a pre-processor targeted at real-time advanced driver assistance safety (ADAS) vision systems.
The programmable vision platform will be integrated into Nextchip's Apache4 vision-based pre-processor—a dedicated sub-system of image processing accelerators and optimized software that reduces the main engine control unit's (ECU) workloads by as much as 70 percent with improved performance and allows detection algorithms to operate simultaneously.
The Apache4 pre-processor incorporates dedicated detection engines that include pedestrian detection, vehicle detection, lane detection and moving object detection. Using CEVA's imaging and vision platform allows automotive OEMS to develop differentiated ADAS applications, the companies say.
The imaging and vision DSP platforms address the extreme processing requirements and low-power constraints of machine learning and machine vision applications used in smartphones, surveillance, augmented reality, sense and avoidance drones and self-driving cars. The platform is a hybrid architecture composed of scalar and vector DSPs coupled with an application development kit (ADK) to streamline software deployment.