A UK-based builder of flexible snake-arm robots was recently acquired by GE Aviation, which envisions use of these machines for jet engine maintenance.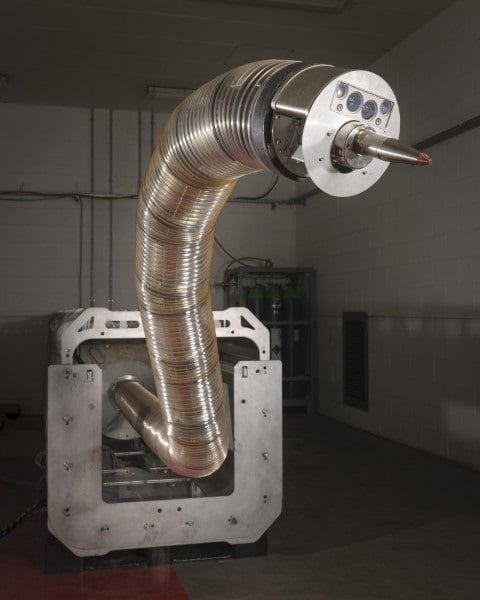 A LaserSnake. (Source: OC Robotics)This type of robot, developed by OC Robotics, is ideal for working in confined and hazardous spaces. The 6-ft long snake-arm was recently deployed to replace human inspectors during road tunnel construction in Hong Kong. The robot helps to clean the cutters in a massive boring shield with a high-pressure water jet, and measures the sharpness of the cutting surface with a laser. Eliminating the need for workers to squeeze between the 17-m wide shield and the rock improves work site safety.
In another application, the LaserSnake -- an integrated snake-arm robot and 5ckw laser cutter —successfully disassembled parts of a nuclear fuel processing facility in the UK. The robot cut a 5-ton, 1.5-inch-thick stainless steel tank into 40-pound pieces. It took only four weeks to do what would have taken human workers, each wearing single-use $2,500 protective suits, years to complete.
Snake-arm use for GE jet engine maintenance will allow workers to do as much work as possible with the engine still on the wing. Removing an engine is a time-intensive process that could take a plane out of service for weeks, impacting an airline's bottom line.
The company suggests that inspection of power plants and trains or service in healthcare could be additional snake-arm duties.
OC Robotics' snake-arm robots are housed in a cigar-tube-shaped garage and use a 10-pound motor to move interchangeable arms that can be as long as 14 ft.