Summer is almost here and with it comes high temperatures and blasting the AC in your home. Air conditioners use 6 percent of the electricity in the United States and about 87 percent of homes in the Unites States have an air conditioning unit. This AC use results in about 117 million metric tons of carbon dioxide being released into the air each year. ACs are great for cooling off ourselves, but horrible for the environment.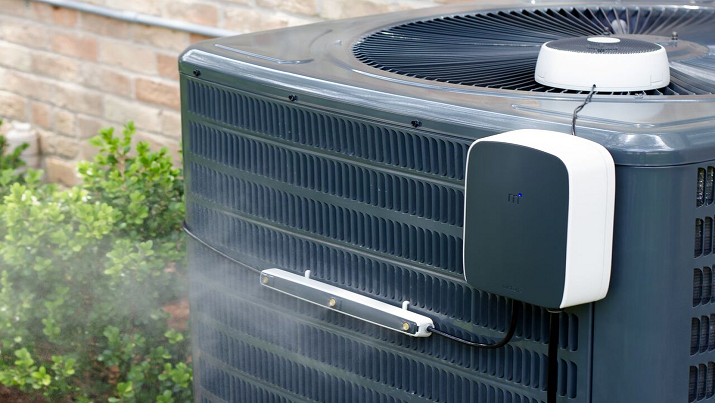 Mistbox on an AC unit (Mistbox)
Mistbox is here to help with this problem. Mistbox is a connected device that attaches to an AC unit and using evaporative cooling, or mist, to pre-cool the intake air going into the AC. This result in shorter run times, making the AC unit more efficient and can save you 20-38 percent on your cooling bills. Mistbox is wind-powered from the turbine on the AC unit, allowing Mistbox to operate completely off the grid. Mistbox has cellular connectivity which is what allows for secure and reliable connection. You can track your usage and receive real-time reporting on the operation from the Mistbox app.
Mistbox is installed in four steps. Firs you install the wind turbine by attaching it to the panel above the condenser fan. Second, you attach Mistbox to the side of the AC unit with a bracket, provided in the Mistbox package. Third, attach the spray bars to the sides of the AC unit. The tubing is adjustable to each AC. Finally, connect your garden hose to the water supply lead. Now your Mistbox is ready to operate.
Mistbox comes with a control unit, which gathers information about your AC usage and adjusts to save the user the most money. It also has 4 mist bars, which distribute the cooling mist, a wind turbine, a water filter, and a battery. The water filter ensures that the mist is safe for your AC unit. You also must have a subscription to Mistbox. The subscription is $99 per year, or $10 a month. With this subscription, you receive a Mistbox rental, unlimited water filter replacements, cellular service, and a lifetime warranty. You can cancel your subscription at any point with no fees. If you support the Kickstarter campaign, Mistbox will waive their $39 activation fee. To own your own Mistbox, you can pay $399 and you will receive Mistbox, one-year cell connectivity, one water filter and a yearlong warranty.
The Kickstarter campaign has $109,792 pledge of its $10,000 goal with 56 days left in the campaign. To learn more about Mistbox, visit the Kickstarter page.