There has been some talk about the viability of home social robots lately after Mayfield Electronics said it planned to discontinue development of one of the highest profile home robots on the market, Kuri. Part of the reason for a lack of adoption of these robots could be the cost, not living up to the potential promised by these devices or just a general fear of robotics controlling aspects of our lives.
Anki is looking to counter this with Vector, a new home robot that is cheaper, cuter and can fulfill the promise of having a robotic sidekick running about the house. But will consumers be excited enough to support it? A new Kickstarter campaign that has already in a matter of days reached its funding goal appears to have answered that question.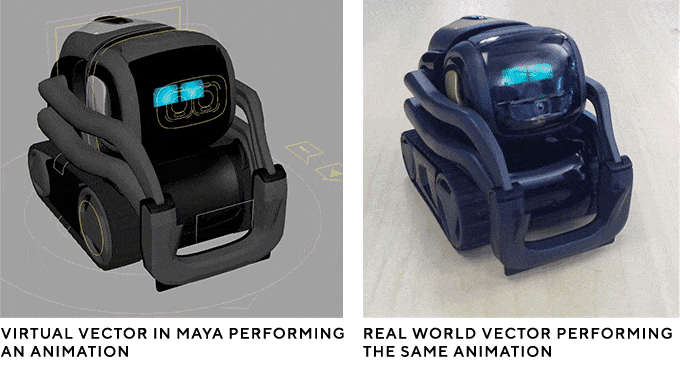 Vector in pre-production animations (left) and in the real world (right). Source: AnkiVector is a tiny, always-on autonomous robot that can see, hear and feel allowing it to react to the world around it. The robot uses an HD camera to see the world and computer vision to identify people, remember faces and navigate the space in the home without bumping into things. With four-microphone array for directional hearing, Vector can take directions even with loud noises around it, Anki said.
The robot also has touch sensors and an accelerometer so it knows when it is being touched or moved. It can self-charge, connect to the Internet and filter information from the cloud. This allows it to answer questions, tell you the weather, set a timer, take photos and even play games such as blackjack.
Vector is powered by a Qualcomm 200 processing platform with a 6-axis inertial measurement unit (IMU) and a WiFi connection.
Anki said the robot will be ready to ship in October and has started a Kickstarter campaign in order to drum up funds for production as well as identify future features and functionality of the device. The campaign has already reached its goal of $500,000 but you can still get in on the early bird offering for Vector at $199.