Microsoft is experimenting with a new opportunity to site more data centers near large population centers in an energy-efficient and environmentally sustainable way. As part of its Project Natick, the company has deployed a prototype underwater data center off the Orkney Archipelago, Scotland.
The venture is planned to accommodate the expected exponential growth in demand for cloud computing infrastructure by leveraging technology from submarines. More than half of the world's population lives within about 120 miles of a coast, and by putting data centers in bodies of water near coastal cities, data would have a short distance to travel, thereby improving web surfing, video streaming and game playing experiences.
The data center installed at European Marine Energy Centre, a test site for tidal and waver energy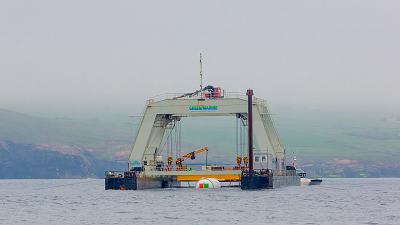 Project Natick's Northern Isles data center is partially submerged and cradled by winches and cranes between the pontoons of an industrial catamaran-like gantry barge. Source: Scott Eklund/Red Box Picturestechnologies, houses 12 racks containing a total of 864 servers and associated cooling system infrastructure. It is as powerful as several thousand high-end consumer PCs, with enough storage for about five million movies.
The 40-foot-long structure was towed out to sea, partially submerged and cradled by winches and cranes, between the pontoons of an industrial catamaran-like gantry barge. A remotely operated vehicle retrieved a cable containing the fiber optic and power wiring from the seafloor and brought it to the surface for attachment to the data center. The equipment was then lowered 117 feet to the rock slab seafloor, where its operation will be monitored and evaluated over the next year. A cable from the Orkney Island grid delivers electricity to the data center, which requires just under a quarter of a megawatt of power when operating at full capacity.
Microsoft delivered specifications for the underwater data center to Naval Group, a 400-year-old French company with expertise in engineering military-grade ships and submarines. The submerging part of the project was handled by Naval Group. The data center adapted a heat-exchange process commonly used for cooling submarines to pipe seawater directly through the radiators on the back of each of the 12 server racks and back out into the ocean.
Such free access to cooling will reduce one of the biggest operational costs incurred by data centers. These underwater structures could also one day be coupled with offshore wind energy or tidal turbine systems.