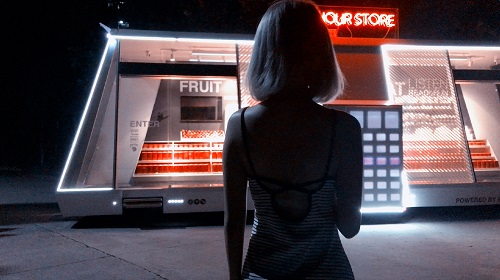 The Moby Mart can be ordered to travel to your location. Source: Wheelys Hate dealing with people? Can't stand having to communicate in the check-out line of a grocery or a clothing store?
Then the Moby Mart will be your new best friend. Moby Mart is an autonomous, staffless mobile store that travels 24 hours a day and can be ordered to come to your residence.
The store packs consumer items such as milk, lunch, medicine, computers, light bulbs, shoes and many other items. Other items can be ordered in advance for later pick up from a Moby Mart. All consumers need to do is enter the store, take what they need and then use a smartphone for payment.
Created by Wheelys, the Moby Mart uses artificial intelligence and cloud computing to enable the wireless technology for payment.
The mobile store is equipped with solar panels and comes with an integrated air purifier in order to make it environmentally friendly.
Currently, the Moby Mart is being beta tested in Shanghai, China.