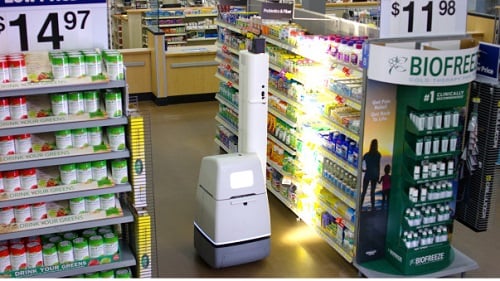 The robots will scan for incorrect prices, missing labels and out-of-stock items. Source: Wal-Mart
Employees in retail or grocery establishments often take numerous hours out of their day to check the inventory on shelves using a handheld scanner.
Not only is this tedious, but it also keeps employees from doing other tasks that might be more useful to organizations.
Wal-Mart is seeking to eliminate the need for employees to do this manual task by using new shelf-scanning robots that the company says will help free up its associates to do more important jobs such as serving customers and selling merchandise.
The retail giant is testing in a small number of stores the automated robots that scan shelves for out-of-stock items, incorrect prices and wrong or missing labels. The testing is taking place in stores in Arkansas, Pennsylvania and California. After these tests are complete, Wal-Mart plans to expand the robot usage to 50 locations.
Wal-Mart says the goal is to combine both people and technology in order to make stores more convenient and easier to shop.