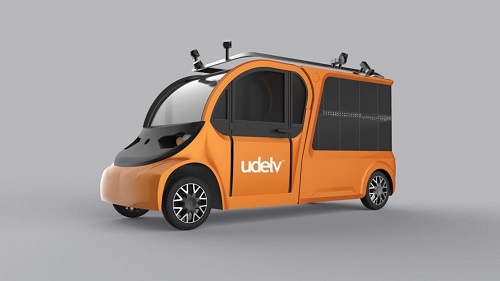 The autonomous delivery truck can carry up to 700 pounds in 18 cargo containers. Source: udelvA delivery start-up has completed what it claims is the world's first public road test of deliveries from a last-mile autonomous delivery vehicle.
Burlingame, California-based udelv used its self-driving delivery truck to take groceries from Draeger's Market in San Mateo, California, to two nearby customers, completing a 2.5 mile loop with traffic lights, lane changes, unsignaled left turns and two delivery stops.
With a safety driver in tow as per California regulations, the orange customized vehicle is fully electric and has 18 cargo compartments with automatic doors. The vehicle uses cloud-based technology that is shared between the vehicle, customers and merchants. Udelv says the vehicle can drive up to 60 miles per cycle and can load up to 700 pounds of cargo.
In order to ensure the reliability of the service, udelv created an ultra-low latency teleoperations system to monitor and control the vehicles remotely and allow overrides and human-assisted guidance if needed. Clients using the delivery system use a dedicated app available on iOS devices (with an Android version coming soon) to make, track and reschedule deliveries.
To get the goods they ordered, customers simply open the locker with a press of a button on their mobile device and the vehicle heads to the next delivery or back to the store to load more cargo.
Research group McKinsey forecasts that in the next 10 years the X2C delivery market — defined as a carrier of goods or parcels that is autonomous and not a physical person — will carry 80 percent of all items from merchants, whether this be by drone or autonomous ground vehicles (AGVs). Traditional delivery options will account for the remaining 20 percent of all items.
McKinsey says the reason for this high uptick in such a short time is the changing public opinion concerning autonomous vehicles including drones. The research group says about 60 percent of consumers indicate they are in favor or at least indifferent to drone delivery. McKinsey says it is not out of the realm of possibilities for public opinion to increase about AGVs in the next 10 years.
As a result, if delivery companies are not thinking about autonomous delivery today, they need to act soon or they may miss out on being among the contenders for the last mile in the long term, McKinsey says.
As for udelv, the company is planning to test dozens of vehicles on roads in a few states in the coming months and years and will use a subscription model for customers. Currently, the company is operating only in San Mateo and Burlingame in the peninsula of the Bay Area.
To learn more about udelv's business and service, check out their web site: http://www.udelv.com/