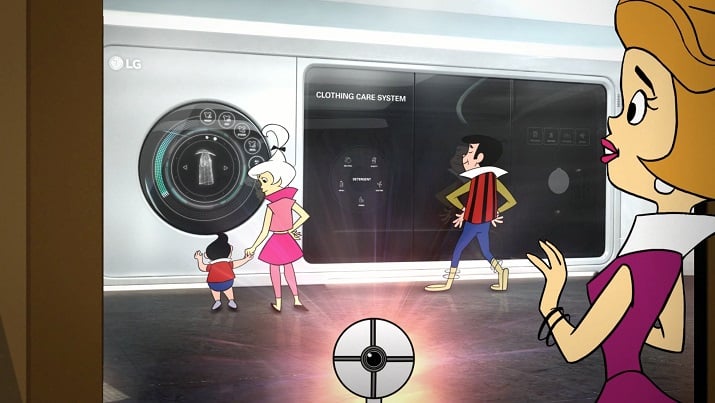 (Source: PRNewsfoto/LG Electronics USA)Well, this is pretty amusing.
A new promo spot featuring futuristic cartoon family the Jetsons interacting with LG's SmartThinQ connected appliances shows off both current and future LG products in a clever, engaging style. Portraying a connected kitchen, living room and laundry room, the underlying message is that LG picks up where the Jetsons left off.
Highlighted products include the LG Hom-Bot Turbo+ robotic vacuum, an intelligent cleaner that captures surface images of rooms and learns over time how to avoid obstacles; LG InstaView refrigerators, which allow users to knock twice on a glass panel to see what's inside; and the LG Hub Robot that uses voice recognition technology to complete household tasks. The robot has an interactive display to provide information like recipes to go with whatever's in your fridge, and step-by-step audio instructions to tackle them. And of course it can also play music, set alarms, create reminder memos and provide weather and traffic updates.
Although there was no Internet of Things when the Jetsons first aired in 1962, the family's daily interactions with futuristic robotic contraptions certainly foreshadowed our connected lifestyles. But I'd still recommend being careful if you decide to walk the dog on that kooky, suspended-in-space treadmill.