When the average person thinks of robots, they think in terms of benevolent friends, like Rosie on the Jetsons, or maybe their own vacuum sweeper robot. They may also think of a dystopian world where robots rule against humans, such as the Terminator series of movies. If they have a technical background, they may think of robots welding and assembling parts in a manufacturing facility. What they probably do not consider is how robots are donning their straw hats and helping farmers.
Robots and automation offer some promise in improving safety, yield and efficiency of farming operations. All segments of farming, from seeding and planting to harvesting, stand to benefit from robotic farming.
Autonomous tractors
In recent years, there has been emphasis on autonomous tractors which will plow, seed or plant a field without a driver. The tractor is outfitted with the appropriate hardware and then rolls (or tracks) through the field, bound by geofencing and governed by motion sensors and machine vision to prevent accidents.
Autonomous tractors can save in labor costs, crop yield and safety. No longer is a trained tractor driver required, which is a real advantage in a hot labor market where workers are in short supply. Crop yield is increased as the machine vision on some of the newer tractors is so precise that the tractor can be guided through rows without crushing any of the crops under the wheels or treads. Also, with no driver, and intelligent machine vision, there is a strong potential that tractor related injuries will decrease significantly with automation.
Most of the major tractor manufacturers are playing in this market. John Deere's 8R was released at CES 2022, while Case IH offers steering assist and autopilot modes on some of their tractors to minimize overlap and save money on fuel, seed and sprays. Other companies are investing money into this field as well.
Weeding and spraying
Machine vision is being incorporated into automated weeding devices. Carbon Robotics now offers a weeding device that uses machine vision to track the color of desirable crops versus weeds. Once weeds have been identified, it burns them with a high-intensity laser. Small Robot Company is perfecting a similar system that uses high voltage to zap weeds. In these cases, plus several others, artificial intelligence (AI) is leveraged in the determination of weeds versus crops to ensure that only the weeds get burned, zapped or removed.
Besides removing weeds, other crop maintenance can be performed by robots. Multiple spraying operations, such as liquid fertilizer, pesticide and herbicide can be sprayed either using the autonomous tractors or via drone. Both of these technologies can be used continuously, or as a targeted delivery using machine vision and AI to determine where certain substances are needed.
Companies like Commaris and AgriSpray offer drone services to deliver the chemicals to the field, saving the farmer the time and effort required to get a drone license, learn to fly it, and so on. This operation is contracted out, just like traditional crop duster services.
Current sprayers and drones are equipped with fill sensors to determine how much chemical remains onboard, as well as cameras for avoiding collisions. This, combined with geofencing, allows for the farmer to map out an efficient route for spraying operations.
Often, chemical sprays are hazardous to the health of the workers who administer it. This is true for tractor operators as well as crop dusters who may be exposed during filling or spray operations. While it is not very common, there are occasional crop duster accidents, which are avoided with robotic spraying.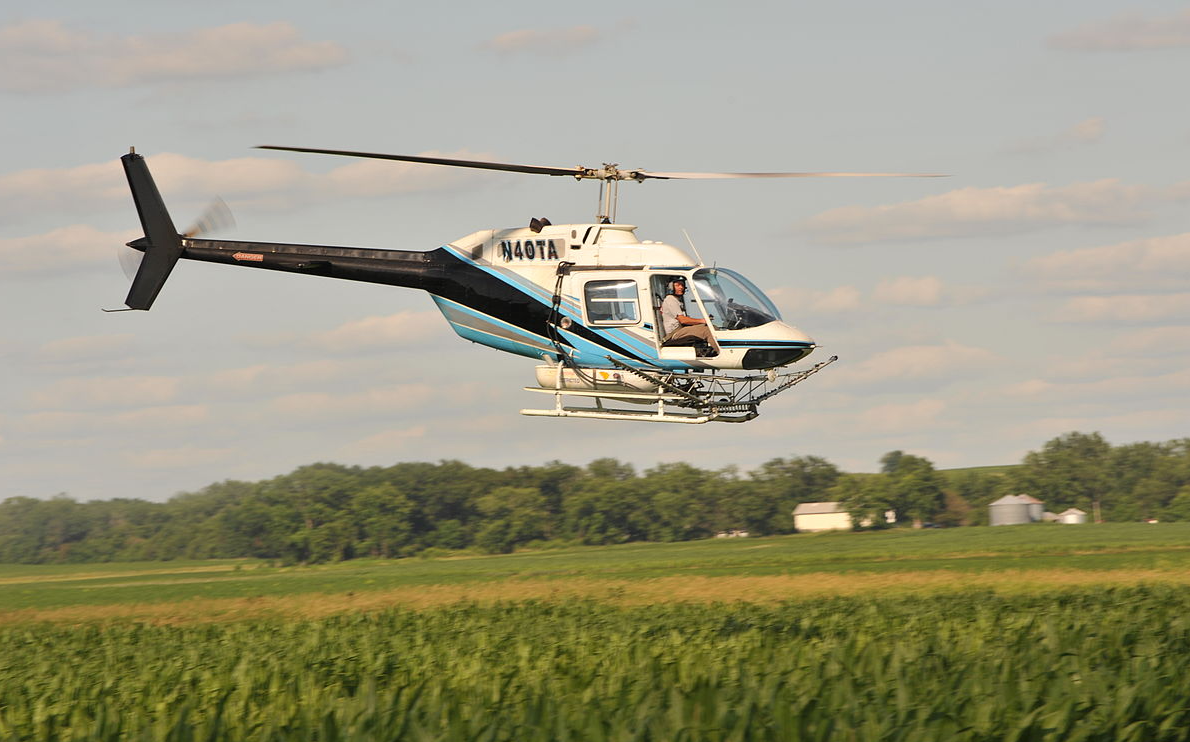 Source: Carl Wyckoff/CC BY 2.0
Picking and harvesting
Robotic harvesting is nothing new. Every child who has worked in an orchard or in a farm has dreamed of having a machine pick up the potatoes that their father has dug out of the ground. Perhaps the first automation step involved the tree shakers. They saved field workers the trouble and danger of climbing ladders to harvest nuts and fruits.
Today, there are dozens of small companies working on ways to autonomously harvest the most delicate fruits and vegetables, such as tomatoes, strawberries and other soft-skinned items. Techniques vary from cutting the stem (such as many of the "vine-ripened" tomatoes available at the grocery store), to picking fruits when they are green and then accelerating their ripening process with UV light, or even lifting up entire sections of sod to pluck root vegetables from the ground.
In all of these circumstances, tight control loops and machine vision will enhance the industry. Because the fruits and vegetables are a natural product of varying size and shape, machine vision can help identify the product and then develop the proper picking technique. The tight control loops will prevent robotic grippers from smashing the fruit, without hindering its ability to remove it from the plant.
The future of agriculture
While it is tempting to think of farming as an "old-fashioned" profession, it has changed significantly through the adoption of advances in technology.
The future will continue to leverage autonomous vehicles, both land-borne and airborne, as drone batteries last longer and carry heavier payloads. Eventually, these autonomous vehicles will run themselves, perhaps based on satellite imagery or aerial drone photography of the field. This will help the farmer more easily identify trouble spots and apply the appropriate remedy. The view from above will locate places that are receiving too much or too little water, where pests or fungi are damaging crops and so on.
Perhaps one of the greatest leaps will be in big data. So much farmer knowledge is passed down via word-of-mouth, and so much of that data is qualitative. In the old days, farmers would say some variation of, "Sow four seeds as you make your row; one to rot, one for the crow, one for the grub and one to grow." Big data and AI can start to track where these seeds are going, measure their sowing depth and spacing, track soil moisture, pH and thousands of other variables to find the optimal growing conditions. Big data will usher in the era of quantitative studies on the finer details of agriculture, improving yield and sustainability for an ever-growing number of mouths to feed.