The Volocopter, the world's first helicopter drone that anyone can fly, even with no pilot experience, has received the green light from German aviation authorities to fly as an ultralight aircraft.
e-Volo, the German-based creator of the aircraft, has now begun conducting manned flights. The world premiere Volocopter flight was made by e-Volo managing director Alexander Zosel on March 30th, 2016 on an airfield in Southern Germany.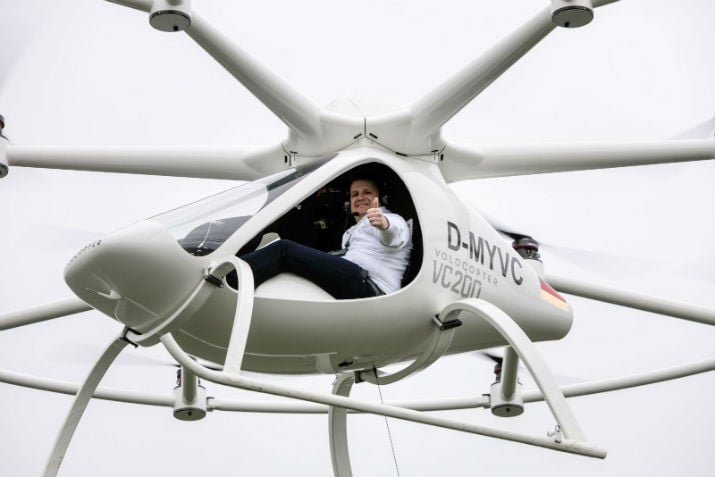 Zosel on test-flight. (Image via e-Volo)
In the first flight phase, flights are being tested at 15 mph at low altitudes. Additional testing phases will increase speeds up to 30 and 60 mph, as well as increase the altitude.
The Volocopter is made of a lightweight, fiber composite material. It can cruise flights, take off and land vertically, and even hover in the air.
The tested model, The VC200 Volocopter, runs on all-electric motors and has 18 rotors powered by nine independent batteries.
The necessary thrust required to provide lift is achieved via independently driven rotors, each with two fixed blades. Although the Volocopter is based on helicopters, unlike a helicopter, the blade angle on the VC200 cannot be adjusted. The amount of thrust produced depends solely on the rotation speed of the rotors.
Because it's equipped with electric propulsion, it has no exhaust emissions and is quieter than other aircraft.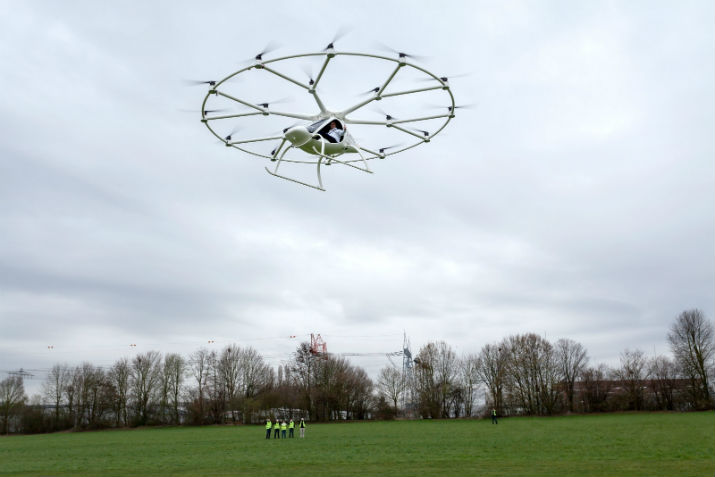 The Volocopter. (Image via e-Volo)
e-Volo intends the Volocopter to become a personal aerial vehicle that is easy and safe to fly, allowing anyone to become a pilot.
According to e-Volo, "For the first time humans' dream of personal flight as a daily routine becomes attainable. As such it not only offers more widespread use in conventional aircraft domains, but brings us another step closer to air taxi services and entire transportation systems in the third dimension."
Other technology companies are taking notice, too.
"Intel congratulates e-Volo on this accomplishment," said Josh Walden, senior vice president and general manager of the New Technology Group, Intel. "Technology developed by Ascending Technologies assists in the flight controls, motor electronics and key elements that extend multi-rotor UAV technology to this new type of aircraft. We look forward to aiding the development of more manned and unmanned vehicles in the future."
Next, e-Volo wants to receive a type certification that would allow it to mass produce the Volocopter, as well as enter the air-sports market. Looking even further down the road, the company envisions its product being used as an air taxi service. Initially the service would be used for pre-determined routes as airport shuttles or at traffic nodes such as bridges.
Volocopter sales are expected to begin in 2018.