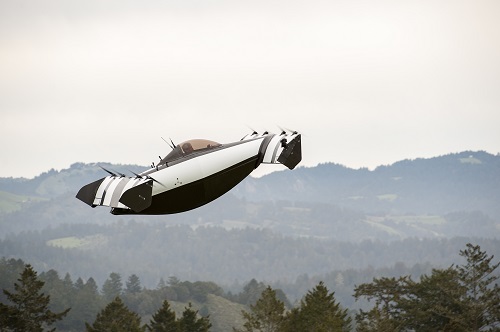 The BlackFly can travel distances of 25 miles at a speed of 62 mph. Source: Opener Inc.
First there was the helicopter motorbike that scared everyone to death about the future of personal aerial vehicles (PAVs). Then Kitty Hawk came along with a more stable version of a PAV that would take flyers around urban areas at low speeds and altitudes.
Now, Opener Inc. has unveiled its own ultralight all-electric, fixed-wing vertical take-off and landing (VTOL) flying aircraft called BlackFly, which has been qualified for both the U.S. and Canada, built for personal transportation.
Opener said the single-seat vehicle requires no formal licensing or special skills to operate safely and while the aircraft does have amphibious capabilities, it is primarily designed to operate from grassy areas and travel distances of up to 25 miles at a speed of 62 mph.
BlackFly features eight propulsion systems spread across two wings for multiple-failure security, the company said. Opener has tested BlackFly with more than 1,400 flights and flown more than 12,000 miles in order to ensure the safety of the aircraft. And though not required by FAA regulations, operators of the BlackFly will be required to successfully complete the FAA Private Pilot written examination and to also complete company-mandated vehicle familiarization and operator training.
The long-term vision of the company is to integrate these vehicles into a rural or urban commuting network that would be powered by renewable energy sources requiring only a fraction of the transportation energy currently used, Opener said.
Other features of the aircraft include geofencing, automatic return-to-home button and a ballistic parachute option.