The agility of arthropod insects and spiders inspired Harvard University researchers to engineer a new family of semi-soft robot capable of standing and walking. The major structural component used to assemble these 'arthrobots': drinking straws.
The designers cut notches in the straws, allowing them to bend, and then inserted short lengths of tubing which, when inflated, would force the joints to extend. A rubber tendon attached on either side would then cause the joint to retract when the tubing deflated.
After building a one-legged robot capable of crawling, the researchers moved up in complexity by adding a second and then a third leg, allowing the robot to stand on its own.
Simple robots are easily controlled by hand, using syringes, but the researchers turned to computers to control the sequencing of their limbs as the designs increased in complexity. A microcontroller run by Arduino that uses valves and a central compressor provided scope to rapidly develop the gait of advanced robotic designs.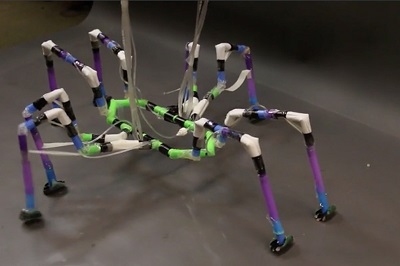 Inspired by arthropod insects and spiders, researchers created a type of semi-soft robot capable of walking, using simple materials such as drinking straws and inflatable tubing. (Source: Harvard University)The "triangle" gait of ants was replicated with a six-legged robot. However, mimicking a spider-like gait proved far trickier due to the binary motion of the robot's joints. As a result, the precise movement of a spider could not be duplicated.
Developing a system that can fine-tune the speed of actuation of the legs would be a useful goal for future research, and would require programmable control over the flow rate supplied to each joint.
Though real-world applications are still far off, the techniques used to develop these robots — particularly the use of everyday, off-the-shelf materials — can point the way toward future innovations. The researchers theorize the robots eventually could be used in search operations following natural disasters or in conflict zones.