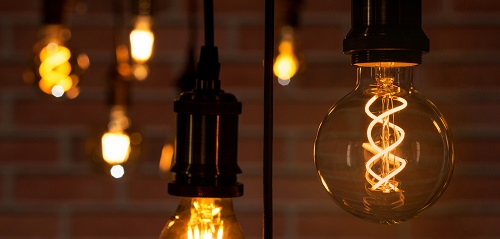 The vintage filament LED bulbs. (Source: Feit Electric) The more things change, the more people long for days gone by, so vintage electronics, clothing and products have sprung up in droves.
Feit Electric is capitalizing on this with its light emitting diode (LED) vintage glass product line with a curved design filament that fills the glass with a swirl, knot or loop. The goal is to provide for those looking for a vintage look in personal or hospitality uses, such as restaurants and hotels.
The vintage curved filament is wrapped in a clear or amber glass housing in order to enhance the look and feel of lighting. The LEDs come in seven distinctive designs and are made to fit into standard light sockets as well as chandeliers, wall sconces and pendant lighting.
The dimmable LED bulbs use between 4.5 and 6.5 watts of electricity depending on the shape and size and have a lifespan of about 15,000 hours, or 13.7 years, for improved energy efficiency and more environmentally friendly lighting.