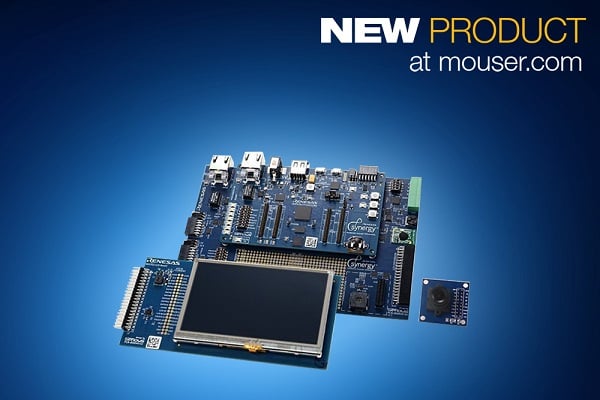 One of Mouser's new Renesas Development Kits. (Source: Mouser)Mouser Electronics Inc. is now stocking a new selection of Synergy™ Kits from Renesas. The kits, based on Renesas' S1, S3, and S7 Series microcontrollers, are designed to be modular and expandable wherever the user is using them. According to Mouser, these kits have an easy and error-proof board configuration. The expansion ports use industry standard Pmod™ connectors with many plug-in modules.
The Renesas Synergy Kits work with Rensas' e² studio Integrated Software Development Environment (ISDE) Synergy Platform. There are three different types of kits available; starter kits, development kits, and product examples depending on the customer's needs.
The DK-S124 Development Kit provides the user access to all pins and features of the microcontroller, broad expansion capabilities and a Bluetooth low energy radio which enables communications with mobile devices.
The DK-S3A7 Development kit has an S3 Series microcontroller with an ARM Cortex-M4 CPU core with floating point unit (FPU). This kit includes an SCLD display, upper board with the S3 Series microcontroller and a lower board signal expansion and implementation special functions.
The DK-S7G2 Development Kit has a basis for hardware and software development. It uses the Synergy S7 Series microcontroller. This kit also contains automated blocks of signal routing, with a quick check through light emitting diodes (LEDs) if routing is correct for desired macro functions.
The PE-HMI1 Product Example represents how engineers could design a connected human-machine interface using Synergy Platform. This is designed to be used in connected graphical user interface panel applications, the PE-HMI1 has a 7-inch wide video graphics array (WVGA) color thin film transistor (TFT) display with a touch screen and a CMOS imager that takes advantage of graphics capability provided by an S7 Series microcontroller.
To learn more about these kits, click here.