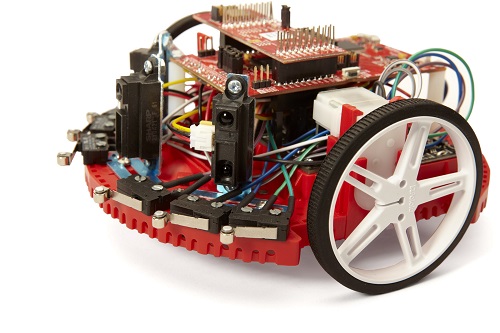 The first kit is called the Maze Edition for engineering students. Source: Texas InstrumentsTexas Instruments has introduced a new educational tool in the form of a low-cost robotics kit and classroom curriculum designed to give today's engineering students a strong foundation in systems-level design.
The TI Robotics System Learning Kit (TI-RSLK) will be a series of kits that help students understand how electronic system designs work. The first in the series is the Maze Edition, which contains more than 60 electronic and mechanical components such as the SimpleLink MSP432P401R microcontroller LaunchPad Development Kit. This kit contains a broad portfolio of connected ARM MCUs in a single software development environment, delivering flexible hardware, software and tool options for internet of things (IoT) and robotic applications.
Through the curriculum, students learn the function and purpose of each hardware and software component inside the TI-RSLK system. Students can then write and develop their own code and build their own fully functioning robotics system. The final test is building a robot that can complete line-following challenges, compete against other robots and solve its way through a maze.
The robotics kit is designed to supplement other curriculum with 20 learning modules covering basic to advanced topics. Each module contains lecture videos, slides, lab documents, demo videos, quizzes and activities
There are three basic kits that engineering institutions can purchase starting at $99 through $199. The TI-RSLK kits can be purchased from Element14.