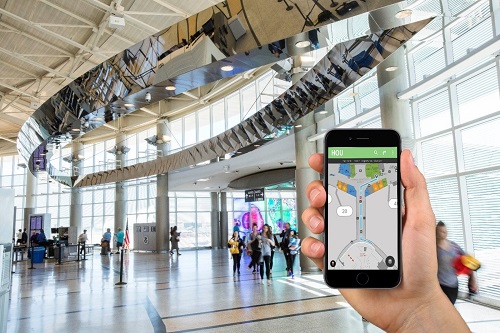 Using the website fly2houston.com and using a smart device provides turn-by-turn navigation inside a pair of Houston airports. Image credit: Houston Airport System
A pair of Houston airports have introduced a turn-by-turn wayfinding technology that doesn't require downloading a separate app to smart devices.
The George Bush Intercontinental Airport and the William P. Hobby Airport are using the interactive map technology that works on any device or browser whether it is a mobile, desktop or tablet. The navigation path provides directions that take the user from their starting point to their destination with the most efficient path possible.
Both graphic and text are provided in the step-by-step directions with an estimated walking time that it takes to get to their destination. The navigation also allows for points of interest, including gates, ground transportation, ticket kiosks, ships, restaurants, security checkpoints and more.
It works by going to the website fly2houston.com and the prompt allows users to navigate directly on the website rather than using an app.
As technology advances, industries, and businesses are looking for different ways to enable indoor navigation or navigation in remote areas where GPS struggles. Recently, a London airport installed an indoor navigation system using augmented reality wayfinding for passengers.