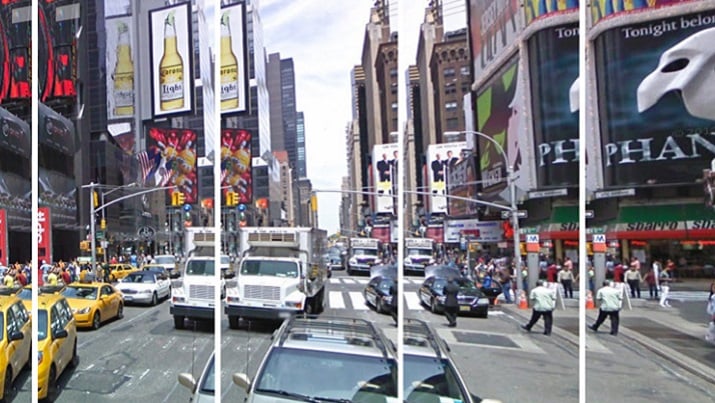 The Google Street View process: overlapping images are collected before being stitched together to create a single 360-degree image. (Source: Google Street View)Building on the success of the Street View technology featured in Google Maps and Google Earth, Google has announced a new set of four "Street View ready" certification standards that will be integrated into 20 new 360-degree cameras coming to market in 2017. Street View, which debuted in 2007, stitches images together to provide panoramic views from various positions along streets throughout the world.
Writing on the Google blog, Street View Product Manager Charles Armstrong says that publishing high-quality, interactive imagery will no longer require significant time or effort: Users will be able to get one of the cameras, download the Street View app and start creating. The Street View tool does the work of connecting each frame into an interactive video experience.
The four standards are:
Street View mobile ready, for 360-degree cameras that can publish Street View directly from a mobile app. No desktop workflow is required. Certified companies will include Giroptic, KenXen, NCTech and 360fly.
Street View auto ready, for 360-degree cameras designed for collecting images from a vehicle. Certified companies will include Insta360, NCTech, Sphericam and Z Cam.
Street View virtual reality (VR) ready, for 360-degree cameras that collected geometry in addition to generating sets of connected photos. Certified companies will include InsideMaps, Matterport and NCTech.
Street View workflow ready, publishing tools that may be bundled with cameras, and can upload to Street View accounts.
Cameras and publishing apps are currently being prepared for certification under one of these four standards.
Aspiring Street View photographers and agencies have an opportunity to earn a "Trusted" badge after publishing 50 approved photos, which allows them exposure on the Street View for-hire index.
Want some inspiration while you wait for equipment to become available? Have a look at what's currently on the Google Street View gallery.