A digital air traffic control tower is to be installed at London City Airport, the first of its kind in the UK. The new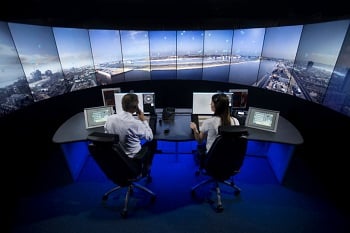 system replaces the existing 30-year-old control tower and is expected to be operational in 2019.
The digital tower, developed by Saab Digital Air Traffic Solutions, will be equipped with 14 High Definition (HD) cameras and two pan-tilt-zoom cameras. The cameras will provide a full 360 degree view of the airfield in a level of detail greater than the human eye and with new viewing tools designed to modernize and improve air traffic management.
Airfield images and data will be sent via independent and secure super-fast fiber networks to a new operations room at the National Air Traffic Agency control center in Swanwick, Hampshire. At this facility, air traffic controllers will perform their operational role, using the live footage displayed on HD screens that form a seamless panoramic moving image, alongside the audio feed from the airfield, and radar readings from the skies above London, to instruct aircraft and oversee movements.
The 50-m digital tower was approved by the London Borough of Newham in December 2016, and construction will begin later this year, located in the airport's long-stay car park, in line with the mid-way point of the runway, adjacent to King George V Dock.