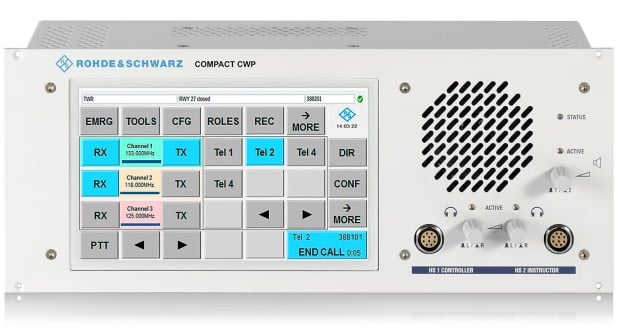 Controller working position (CWP) is one component of the R&S VCS-4G system. Source: Rohde & SchwarzThe voice communication system for what is expected to be the UK's first digital control tower – a solution that has been considered the future for airports -- will be supplied by the Rohde & Schwarz (R&S) technology group. The tower will be installed at Cranfield University, with an anticipated go-live date of December 2018.
Four controller working positions will be set at Cranfield Airport with a full IP voice communication system (VCS). The R&S VCS-4G system is designed to provide a fully integrated digital solution embracing voice communications, video streams, data communications and other services. According to R&S, the solution integrates and interfaces smoothly the analogue radios and existing analogue telephone lines with VoIP technology embedded in the system. The system is based on VoIP technology with support of SIP, RTP, R2S protocols according to EUROCAE WG67 EDstandard specifications. Data streams as well as door access control and other functions will all be handled within the VCS, making it a central platform for the implementation of the tower.
Using HD cameras and sensors to provide a live feed of panoramic views across the airfield, the tower will replicate what can be seen through the windows of a traditional air traffic control (ATC) tower. It will improve a controller's situational awareness by digitizing and integrating airport functions, enabling quick and informed decisions. Controllers will have the ability to zoom in on aircraft, improving visibility.
R&S noted that the system is highly scalable due to its unique architecture; expansion does not require replacing existing equipment. In a press release, the company said that "the R&S VCS-4G system has been designed to meet next generation ATC requirements such as asset sharing, facility consolidation, geographical distribution and remote tower technology, providing air navigation service providers (ANSPs) with an effective solution for present and future safety and efficiency objectives in global aviation."
In addition to serving the airport, the tower will further enhance Cranfield University's research capabilities, which include the Aerospace Integration Research Centre (AIRC) and the newly announced Digital Aviation Research and Technology Centre (DARTeC).
Check out R&S ATC communications solutions for more information.