Developed for rugged, reliable connectivity in automotive LED/lighting applications, the MiniBridge™ Koshiri Security connector from ERNI has a housing design with distinctive guides that prevent mismating and protect contact pins. Also known as "scoop proof," the pin contacts are recessed sufficiently so that they cannot be damaged if the mating connector shell is scooped into it during the mating process. More specifically, the MiniBridge™ Koshiri design prevents pins from being bent and contacts from being shorted during mating.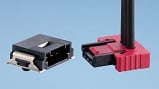 ERNI's MiniBridge™ Koshiri Security connector. Source: ERNI
The single row, wire-to-board MiniBridge™ Koshiri connector features a compact, scalable design with a fine 1.27 mm pitch. This, combined with a highly reliable active latch that ensures proper and secure mating, makes the MiniBridge™ Koshiri connector system ideally suited for space-saving connections between PCBs and decentralized function units, particularly important in the automotive market.
Offering design flexibility, MiniBridge™ Koshiri variants are available with 2, 3, 4, 6, 8, 10 and 12 pins, and have a high current-carrying capacity extending up to 4 amps per contact depending on the cable plant employed. The male connectors feature SMT termination, while the female parts offer IDC terminations, accepting either ribbon or discrete wire cable. Single-wire stranded cables ranging from AWG 22 to AWG 26 can also be used. For these LED lighting applications, a white version is available to eliminate shadowing effects that can be caused by the connector system.
Pricing typically starts at $0.70 in volume with a lead time of 10-12 weeks.