Keystone Electronics Corporation has introduced a miniature circuit board test point that can be mounted on a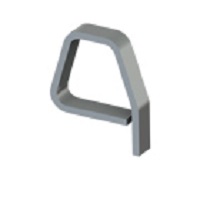 Image credit: Keystone Electronics Corp. PCB via surface mounting methods with locating pin.
This addition to the company's line of circuitry test points is designed with a unique hybrid mounting style to maximize the efficiency of SMT contacts with the strength and durability of thru-hole solder connections to a circuit board. The locating pin design provides positive location of the device during the assembly process.
Catalog No. 5027 features a symmetrical flat-wire design that offers a secure anchoring point for probes, j-hooks and other testing devices and minimizes shifting and pull-off damage common on standard SMT terminals.
The test point is manufactured from phosphor bronze with silver plating, making it suitable for use in both lead-free and traditional leaded processing. The device is packaged as 800 pieces on tape and reel, per ANSI/EIA-481 standard, for vacuum pick-and-place assembly systems.