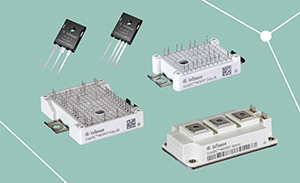 The 1,200 V CoolSiC MOSFET family. Image credit: Infineon
Infineon has started volume production on its first full silicon carbide (SiC) module designed for use in applications such as photovoltaic inverters, uninterruptible power supplies and charging/storage systems.
The 1,200 V CoolSiC MOSFET family shows dynamic losses that are an order of magnitude lower than 1,200 V silicon based insulated-gate bipolar transistors (IGBTs). Infineon says the MOSFETs will play a role in the railway sector of the future with new solutions in industrial drives, medical technology or auxiliary power supplies.
Features of the MOSFET family enable very fast switching transients and can be controlled like an IGBT and safely switched off in the event of a fault. The trench technology of the MOSFET has a lower failure in time (FIT) rate and the short-circuit capability, which can be adapted to each individual application.
The easy 1B module configuration of the components and the other discrete devices are expected to enter volume production this year and a half-bridge configuration is available now.