After producing silicon carbide (SIC)-based Schottky diodes and JFETs for more than a decade and a half, Infineon Technologies AG has now extended its SiC technology, called CoolSiC, to high-voltage MOSFETs. The German semiconductor supplier has developed a new 1200 V SiC MOSFET using a state-of-the-art trench process. With on-resistance (RDS(on)) of just 45 mΩ, the SiC MOSFET is fully compatible with the +15 V/-5 V voltages typically used to drive IGBTs. Plus it offers a benchmark threshold voltage rating (Vth) of 4 V with short-circuit robustness, and fully controllable dV/dT characteristics. According to Infineon, the key benefits of a SiC MOSFET over a silicon IGBT include temperature-independent switching losses and threshold voltage-free on-state characteristics.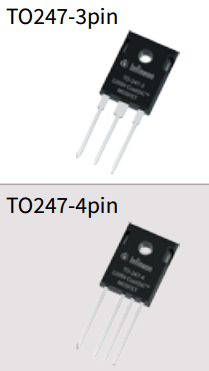 Thanks to the integration of a commutation robust body diode operating with nearly zero reverse recovery losses, the SiC MOSFETs lend themselves to synchronous rectification schemes in hard and resonant switching topologies. For applications such as photovoltaic inverters, uninterruptible power supplies, battery-charging systems and energy storage, Infineon's 1200 V SiC MOSFETs will be available in three-pin and four-pin TO-247 packages. The four-pin package incorporates an additional (Kelvin) connection to the source, which is used as a reference potential for the gate driving voltage. By eliminating the effect of voltage drops due to source inductance, it further reduces switching losses, especially at higher switching frequencies.
In implementing the new SiC MOSFETs, Infineon has also readied 1200 V Easy1B half-bridge and booster modules. Combining PressFIT connections with a good thermal interface, low stray inductance and robust design, each module is available with RDS(ON) rating options of 11 mΩ and 23 mΩ.
Infineon will start sampling the 1200 V SiC MOSFETs in the second half of 2016, with volume production planned for 2017.