Rohm has introduced its fourth generation 1,200 V silicon carbide (SiC) metal-oxide-semiconductor field-effect transistor (MOSFETs) for automotive powertrain systems such as the main drive inverter.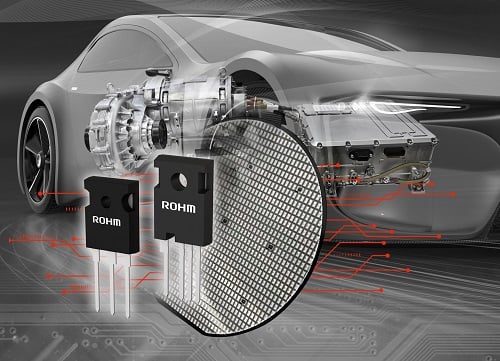 The new silicon carbide power MOSFETs for electric vehicles. Source: RohmSilicon carbide power devices are capable of withstanding high voltages with low losses. The use of these electronic components in electric vehicles (EVs) has been accelerating with the development of smaller and more efficient electrical systems. Improving efficiency with the decreasing size of the main inverter plays a central role in the drive systems, requiring further advancements in power devices.
Rohm said its MOSFETs trade off the relationship between lower ON resistance and short-circuit withstand time by reducing ON resistance per unit area by 40% over conventional products while simultaneously not sacrificing withstand time. Additionally, the MOSFETs reduce the parasitic capacitance making it possible to achieve 50% lower switching loss over Rohm's previous SiC MOSFET generation.