Thermoelectric modules for temperature control application in wine cellars are now mass-produced by LG Innotek (Seoul, South Korea). Use of the compact modules, which manipulate temperature by supplying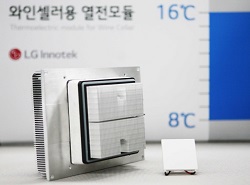 LG Innotek's thermoelectric modules for wine cellars.electricity to a semiconductor element, enables development of smaller wine cellars.
The width and height of the module are approximately half of those of a piece of A4-size paper. Device thickness measures 8.5 cm, and its volume is about 60 percent of the whole compressor volume.

This product has been applied to the recently launched Wine Cellar Mini by LG Electronics. The Wine Cellar Mini installed with this module has a size of 28.2×49.7×53.4 cm and can be easily installed in kitchens, living rooms, etc. As it can store up to eight wine bottles, it is very practical and appropriate for home use.

The thermoelectric module does not use a separate refrigerant and does not cause vibration, which is essential to maintaining the depth and aroma of the wine. The device can maintain optimal temperature according to the type of wine.