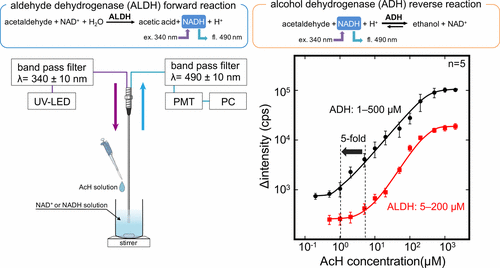 Concentration of AcH. Image credit: Tokyo Medical and Dental University
Making wine is a very difficult task. Wine is a mixture of ingredients — with the juice of grapes being the main ingredient — that are formed during the fermentation process. At the end, the product contains many chemical substances that give the concoction its texture, color, aroma, fragrance, "body" and everything else that expert connoisseurs describe when selling wine.
One of these ingredients —Acetaldehyde (AcH) — is responsible for the quality of the wine's taste. AcH, a toxic substance, is found in our food, saliva, air and bodies. Also, this substance is the most important factor in determining the taste and fragrance of the wine. Too much of it gives the wine an unpleasant odor and taste; too little of it makes it a simple grape juice. So, for centuries, winemakers have been developing methods to monitor and control the AcH levels, which are dependent on temperature, pH and oxygen concentration, among other factors. The most critical methods include the use of experts and complex equipment.
This week, a group of scientists — led by Kohji Mitsubayashi — from Tokyo Medical and Dental University have developed a fiber-optic biosensor for measuring the concentration of AcH in wine. Kohji Mitsubayashi and colleagues developed a sensitive, versatile detector that is more selective than existing instruments. The group tested the sensor in nine different wines — reds and whites — and produced real-time results that are more accurate than traditional methods.
This is a significant discovery because the device can provide wineries with a more accurate and simpler method for monitoring and controlling their product. Hundreds of years of using human connoisseurs may be about to end.
Maybe now, in my basement, I can produce a better wine than a Châteauneuf-du-Pape.
The results of the research were published in the ACS Sensors journal.