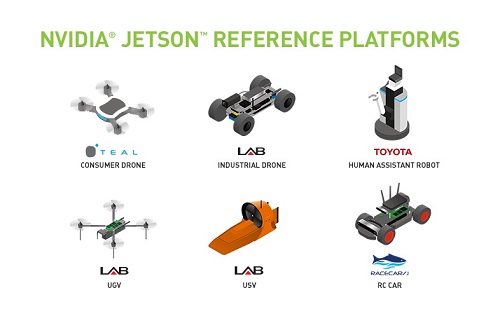 The Jetson based reference platforms available from Nvidia. Image credit: Nvidia
Nvidia Corp. has released open-source reference platforms for drones, submersibles, robots on wheels and other devices for developers to more easily create prototypes.
The advanced robotics platforms are based on Nvidia's Jetson artificial intelligence module that is powered by the company's Pascal architecture.
Companies releasing Jetson-based reference design platforms include Toyota, for human support robots; Teal, for consumer drones; Enroute Lab, for industrial drones and unmanned surface and ground vehicles; and other various academia for scale model autonomous cars.
Companies using the Jetson reference platforms include Fellow for industrial robots; Starship, Marble and Display.AI for delivery robots; Enroute Lab and Aerialtronics for search and rescue drones; Toyota for human-support robots; and FIRST for high school robotics programs.
The developer kits include the Jetson TX2 board, design guides and documentation and are pre-flashed with a Linux development environment. The kit supports the Nvidia Jetpack SDK, which includes the BSP, libraries for deep learning, computer vision, GPU computing, multimedia processing and more.
Meanwhile, Nvidia has also introduced what it calls the Isaac robot simulator, a new platform to train intelligent machines in simulated real-world conditions before they get deployed. The Isaac robot simulator provides an AI-based software platform that uses deep learning technologies in order to create test scenarios and simulate them in minutes. Then the knowledge can be transferred to real-world units.