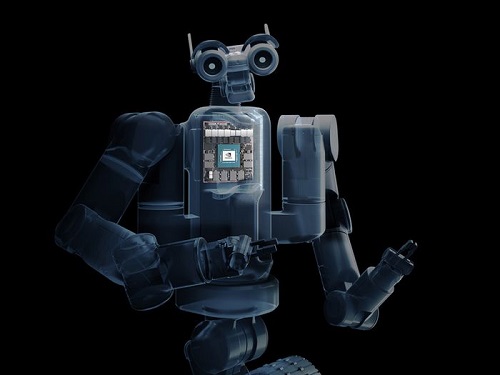 The Isaac software will enable robot to locate itself, perceive its environment and much more. Source: Nvidia
Nvidia Corp. continues to advance its platforms for bringing artificial intelligence capabilities to robots with the launch of its latest software called Isaac.
Launched at Computex 2018, Isaac is powered by Nvidia's Jetson Xavier processor, which consists of more than 9 billion transistors and delivers over 30 trillion operations per second (TOPS) — more processing capability than a powerful workstation while using a third of the energy of a lightbulb.
Jetson Xavier has six kinds of high-performance processors — a Volta Tensor Core GPU, an eight-core ARM64 CPU, dual NVDLA deep learning accelerators, an image processor, a vision processor and a video processor. The processor can be used to enable dozens of algorithms to be processed concurrently and in real time for sensor processing, odometry, localization and mapping, vision and perception and path planning.
This allows robots for manufacturing, logistics, agriculture, construction and other industries to take input from sensors, locate itself, perceive its environment, recognize and predict motion of nearby objects, reason about what action to perform and articulate itself safely.
The Isaac robotics software includes three parts; Isaac SDK is a collection of APIs and tools to develop robotics algorithm software and runtime framework with fully accelerated libraries; Isaac Intelligent Machine Acceleration (IMX) is a collection of Nvidia-developed robotics algorithm software; and finally Isaac Sim is a virtual simulation environment for developers to train autonomous machines and perform hardware-in-the-loop testing with Jetson Xavier.
The Nvidia Jetson Xavier development kit, which includes the Isaac robotics software, will be priced at $1,299 with early access starting in August.